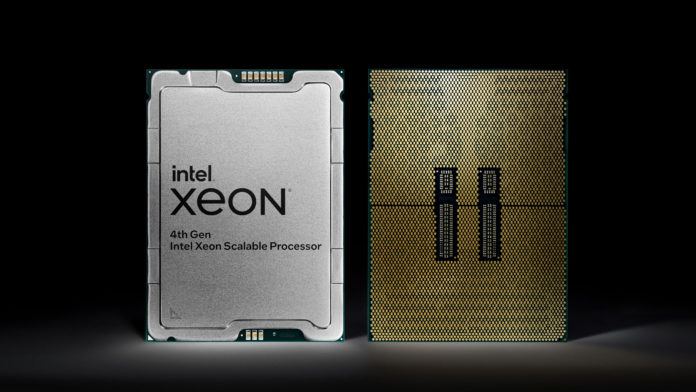 A slide deck allegedly from an Intel presentation, has been leaked on Twitter (opens in new tab) showing what appears to be the next generation of Xeon processors, Intel's server and workstation products. 
Of particular interest is a slide titled "Granite Rapids-AP on Birch Stream-AP" that refers to a CPU with a whopping 120 cores, twice the number in Intel's top of the range processor, the Xeon Platinum 8490H CPU, a $17,000 monster with 60 cores and a TDP of 350W.
These 120 cores will reach a TDP of 500W and will require a new socket called BR with 7529 pins. The leak suggests that the cores used will be Redwood Cove "Performance" ones as opposed to Efficient ones that will fit another product category called Sierra Forrest. Both Granite Rapids and Sierra Forest are expected to launch after Emerald Rapids, the follow up to the current Sapphire Rapids, scheduled for later this year.
Too little, too late?
Xeon processors based on Sierra Forest may end up having a much higher core count as they are simpler, smaller cores geared towards power efficiency rather than absolute performance. 
Of course, it is likely that we will see Xeon CPUs that will combine both Performance and Efficient cores similar to what's being seen on the consumer desktop processor front. One slice shows four potential SKUs, one of which is likely to end up as the Xeon W for workstation PC.
Bearing in mind that the documents date from 2021 (assuming they are real) and may have been heavily updated since then, it's always good to take these with a pinch of salt, especially as these products won't appear until 2024, three years after the purported production of that presentation.
What will AMD do?
AMD has a number of EPYC processors with 96 cores that were launched in 2022 and 2023. We've known since November 2021 that a 128-core product, part of the Bergamo family, will come later this year with a modified Zen 4 architecture that maximizes core count, offering as many threads as possible. 
Doing so will allow AMD to catch up with other more niche players like Ampere Computing, which have been pushing high-core, low-power processors (such as the Ampere Altra Max) to hyperscalers and cloud computing services. There's of course Amazon and its own brand Graviton CPU with 64 cores and in no apparent urge to increase the core counts.
Adding more cores comes with its own set of issues (power dissipation and consumption, yield, various memory bottlenecks etc) which translates into diminishing returns. The latest EPYC CPUs use 350W for 96 cores or a bit less than 3.7W per core. A finer manufacturing process coupled with lower speed/better IPC could slash that even further and, combined with a more generous TDP allocation in a new socket (say 500W), one can see a processor with 256 cores becoming a reality.
Via Videocardz (opens in new tab)
Source: www.techradar.com