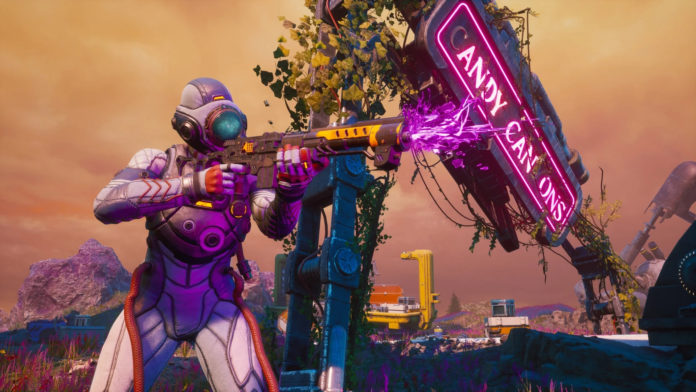 If you missed its earlier releases, then The Outer Worlds: Spacer's Choice Edition on PS5 looks like the ideal way to experience Fallout's spiritual successor. The enhanced version of the open-world RPG launches on March 7 and is also coming to Xbox Series X and PC. 
However, this isn't just a case of an older game coming to PS5 and Xbox Series X with an updated resolution and texture work. The Outer Worlds: Spacer's Choice Edition benefits from all the advantages of current-generation console hardware. All versions can expect the game to run in 4K at 60fps with brand-new particle effects and volumetric lighting improvements. 
Naturally, as a re-release, you're also getting all the DLC and expansion content, which followed The Outer Worlds' original October 2019 release. This means you're also getting Peril on Gorgon and Murder on Eridanos, along with A.I. improvements for your companions and the various extra nasties to encounter on Terra-2 and Monarch for both Xbox Series X and PS5. 
Detailed in full in a PlayStation Blog post, there has been a lot of thought into exactly how the DualSense might be utilized to bring Obsidian's bombastic space opera satire into 2023. One of the most exciting editions to the game has to be how the adaptive triggers work with the various ranged weapons in The Outer Worlds: Spacer's Choice Edition. This means that you'll be able to really feel the recoil from an assault rifle, as well as feel a bolt action sniper firing out of a barrel backed up by the subtle vibrations of the haptic feedback.
If you already own an existing version of The Outer Worlds, then the Spacer's Choice Edition upgrade can be purchased for $9.99 / £7.99. 
As someone who played and thoroughly enjoyed the original experience almost four years ago, I'm personally quite excited by the improvements made to fully flesh out the game world. The original version did suffer from noticeably dumb enemy A.I., which was particularly obvious in some of the wider open environments. More than a handful of times, companions like Felix and Parvati got stuck on the geometry, too.
It's the same all-star development team behind Fallout: New Vegas, so if you're into big open-world games with compelling stories and exciting combat, this one isn't going to disappoint. You're looking at anywhere from 15 to 30 hours of content with very little filler; just be careful not to drive you and your crew directly into the sun.
Source: www.techradar.com