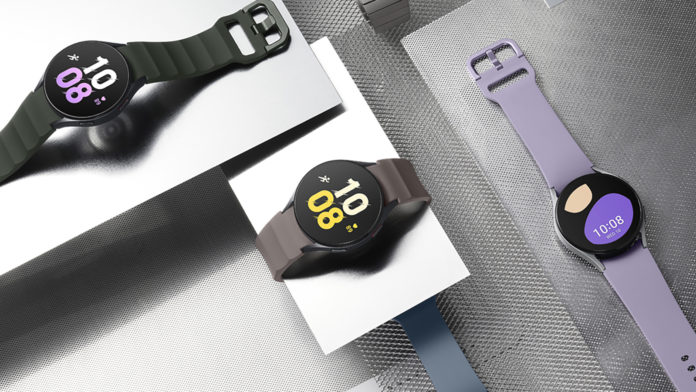 If Samsung sticks to its usual schedule then we could be getting  successors to the Galaxy Watch 5 and the Galaxy Watch 5 Pro at some point in August – and the new smartwatches may well come with a lot of extra power inside them too.
As per SamMobile (opens in new tab), the Galaxy Watch 6 models are going to be fitted with a new processor, the Exynos W980. This is apparently around 10% faster than the Exynos W920 chip that was inside the Galaxy Watch 5 and Galaxy Watch 4 wearables.
According to SamMobile's sources, the processor may use 5 nanometer architecture – especially producing more power in a smaller space, with less of a power drain. In other words, expect faster watches that have longer battery life.
New names, more refinements
SamMobile can usually be relied upon when it comes to Samsung rumors – and if you add in the fact that the Galaxy Watch 5 used the same processor as the Galaxy Watch 4, it looks very likely that there's going to be an upgrade in this department this year.
We've previously heard that this year's wearables are going to be called the Galaxy Watch 6 Classic and the Galaxy Watch 6, and that one of these devices – potentially the Classic one – is going to bring back the rotating bezel of Galaxy smartwatches past.
The new watches will also have thinner display bezels and higher capacity batteries than their predecessors, according to SamMobile. These new smartwatches should be launched alongside the Samsung Galaxy Z Fold 5 and the Samsung Galaxy Z Flip 5.
---
Analysis: a significant upgrade on the way
It seems as though the arrival of the pretty good Google Pixel Watch has pushed Samsung into greater efforts on its own Wear OS smartwatch – and if these rumors are right the Galaxy Watch 6 series is going to be quite the upgrade.
Not only are these devices going to be faster to use, we've got some well-judged aesthetic improvements as well it sounds like, plus something for the Galaxy Watch fans: the return of the rotating bezel that helps to define the identity of the range.
The Samsung Galaxy Watch 5 started at £269 / $279.99 / AU$499, while the Samsung Galaxy Watch 5 Pro cost $449.99 / £429 / AU$799.99 at launch, so it'll be interesting to see where the two new smartwatches are positioned in terms of their price.
One rumored feature that may not end up inside the Galaxy Watch 6 is a built-in projector – although we wouldn't rule out that feature from popping up in some device at some point. Expect more leaks and rumors to emerge between now and August.
Source: www.techradar.com