If you thought the Apple Watch Ultra was big, with its 1.92-inch screen, then you ain't seen nothing yet, as a future Apple Watch Ultra could have an even bigger display, according to this latest leak.
This comes from DigiTimes (opens in new tab), which claims (via BGR (opens in new tab)) that in 2024, Apple will release a version of the Apple Watch Ultra with a 2.1-inch screen. It will also apparently use micro-LED display technology, rather than OLED.
That latter change would potentially make the screen brighter, able to show more vibrant colors, and be easier to see at an angle than the current OLED display. According to a January 2023 report from Mark Gurman – a reputable leaker – which makes the same micro-LED claim, this would also make the display seem almost as if it's painted on top of the glass.
As for the size increase, a move from 1.92 inches to 2.1 inches might not sound dramatic, but for reference the Apple Watch 8 has just a 1.69-inch screen, and we noted in our Apple Watch Ultra review that it can feel gargantuan if moving up from an older, smaller model. So a further size increase is certainly notable.
Of course, it's not necessarily a bad thing, as we considered the Ultra's display a highlight overall, with its large size making it easy to interact with and clear to see.
As for whether this will happen, well, it looks fairly likely. As noted above, the micro-LED bit has been rumored elsewhere too, while analyst Jeff Pu (via MacRumors (opens in new tab)) recently made the exact same claim as DigiTimes, regarding both the size and tech changes.
That said, 2024 is still a long way off, so we'd still take these claims with a pinch of salt.
---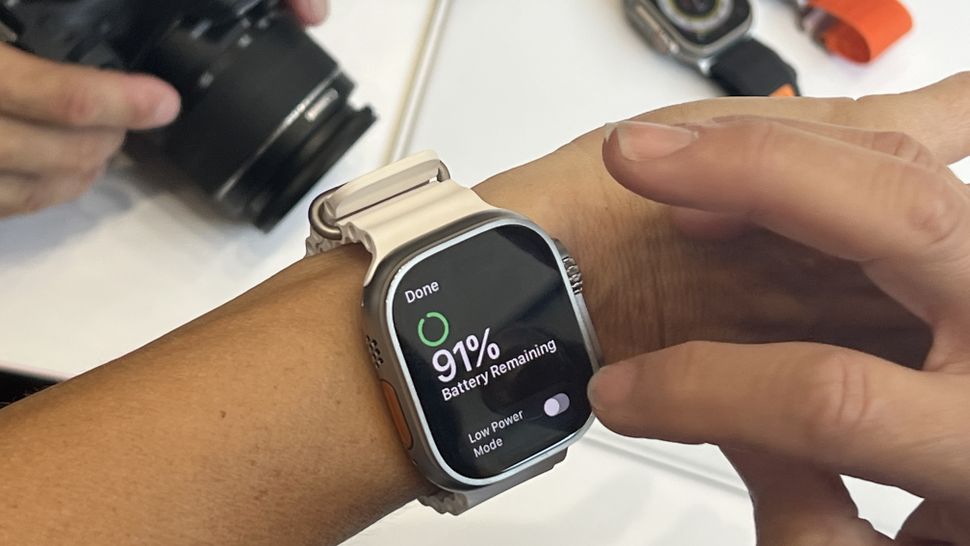 Analysis: the Apple Watch Ultra 2 or 3?
One question we have is whether these rumored upgrades are planned for the Apple Watch Ultra 2 or the Apple Watch Ultra 3.
The original Apple Watch Ultra landed in September 2022, so September 2023 would seem obvious launch timing for the Apple Watch Ultra 2, especially since standard Apple Watch models have been releasing every September ever since the Apple Watch 2.
But this isn't a standard Apple Watch – rather, it's the beginning of a new line, so we can't be certain that Apple will treat it in the same way.
In fact, there's reason to think we might not see an Apple Watch Ultra 2 until 2024. For one thing, the leaks we're hearing so far are talking about a 2024 model, and you'd think we'd have also heard about the 2023 release, if one was planned.
Plus, the Apple Watch SE line isn't yearly, with the Apple Watch SE 2 landing two years after the original model, so Apple may well do something similar with the Apple Watch Ultra.
Based on the first Ultra, these are big, flashy watches, with enormous price tags, so Apple may need to find some significant upgrades for a new one to justify its existence, which again suggests we might be waiting more than a year between them.
One thing's for sure though, whenever the Apple Watch Ultra 2 does land, it's likely to be one of the very best smartwatches – especially if it includes the upgrades above.
Source: www.techradar.com