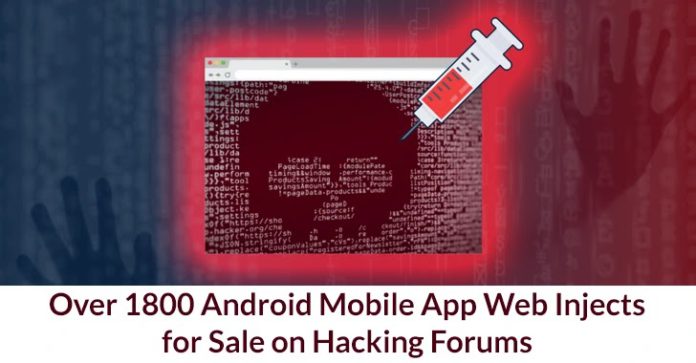 Cyble Research and Intelligence Labs (CRIL) is a security research organization that has been monitoring the actions of a group of cyber criminals called "InTheBox". 
This group is primarily active on a Russian-language cybercrime forum, where they engage in illegal activities such as hacking, fraud, and other forms of cybercrime.
InTheBox operates an online shop that is accessible through the anonymizing network Tor. This shop sells tools and services for carrying out cybercrime, such as "web injects." 
This web injects are pieces of malicious code that can be used to manipulate and steal sensitive information from victims who use infected Android devices for banking activities. 
The shop has been expanding its inventory by adding new web injects that are compatible with various Android banking malware. This web injects are being sold at low prices and with attractive discounts, making them appealing to other cybercriminals.
The Threat Actor provided web injects that aimed to compromise various types of financial services, including retail banking, mobile payment platforms, cryptocurrency exchanges, and e-commerce apps run by well-known companies in numerous countries like:-
Australia
Brazil
India
Indonesia
Japan
Kuwait
Malaysia
Philippines
Qatar
Saudi Arabia
Singapore
Thailand
The United States
Android Mobile App Web Inject Packages
InTheBox is a well-established player in the cybercrime market, with a verified history of selling web injects for Android mobile applications since February 2020. 
They run an online shop that is accessible through the Tor network, providing an anonymous and secure platform for the sale of their malicious products. The shop is automated, allowing for quick and efficient transactions for customers looking to buy web injects.
The prices for the unlimited web inject packages were listed as follows on the online shop:-
814 web injects compatible with Alien, Ermac, Octopus, and MetaDroid for USD 6,512
495 web injects compatible with Cerberus for USD 3,960
585 web injects compatible with Hydra for USD 4,680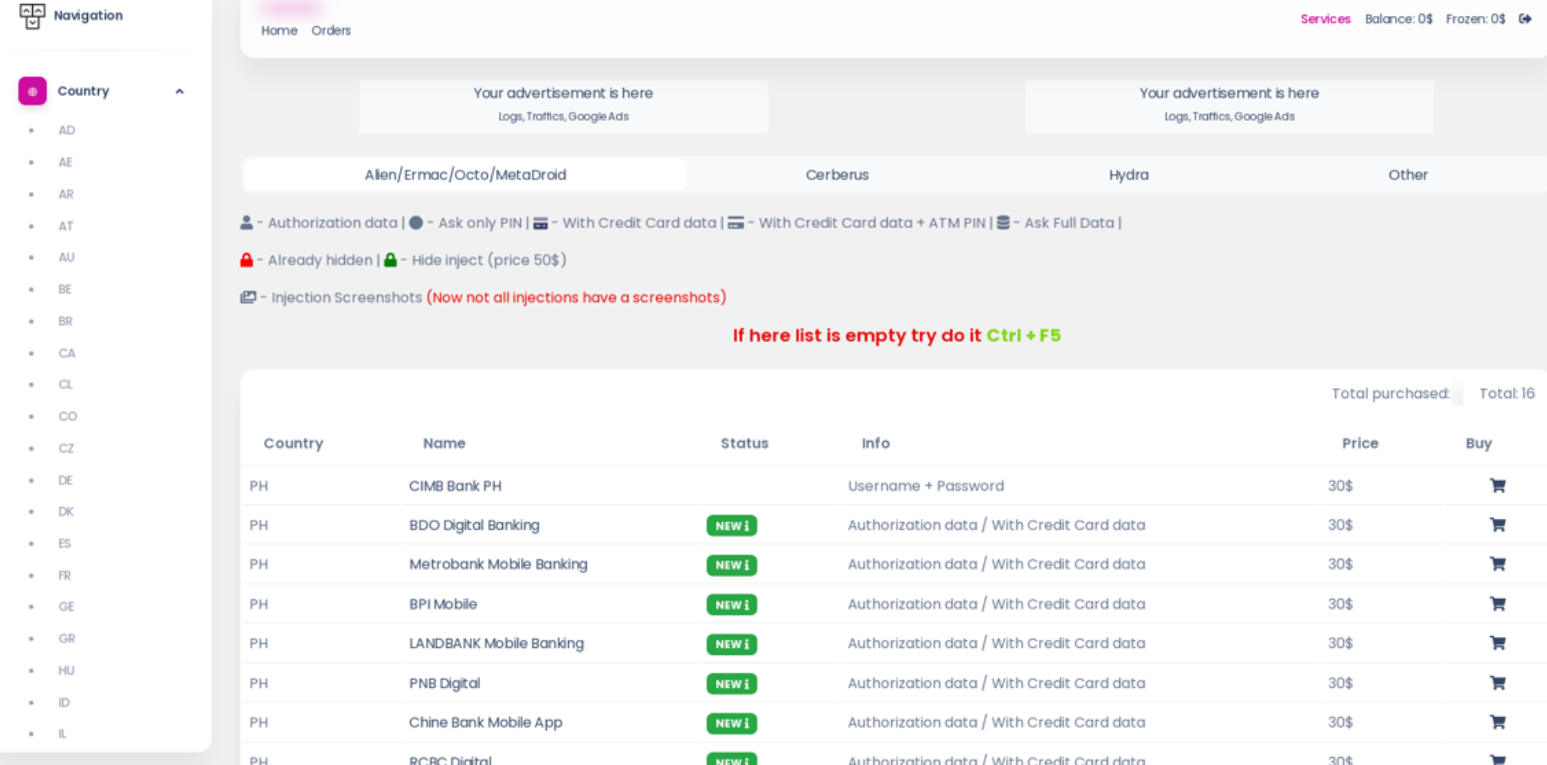 InTheBox has lowered the cost for single web injects from USD 50 to USD 30 each. Additionally, for any banking malware bot, they also offer a customized web inject development service.
Web Injects Shared as Archive
InTheBox provides web injects which are typically packaged in a compressed archive. The archive contains two elements:- 
An app icon in PNG format
An HTML file
The HTML file included in the web injects offered by InTheBox contains JavaScript code that is designed to collect sensitive information such as credentials and data. 

The code is executed through a malicious overlay interface that is integrated into the mobile application. This overlay interface disguises itself as an input form, tricking the user into entering their sensitive information.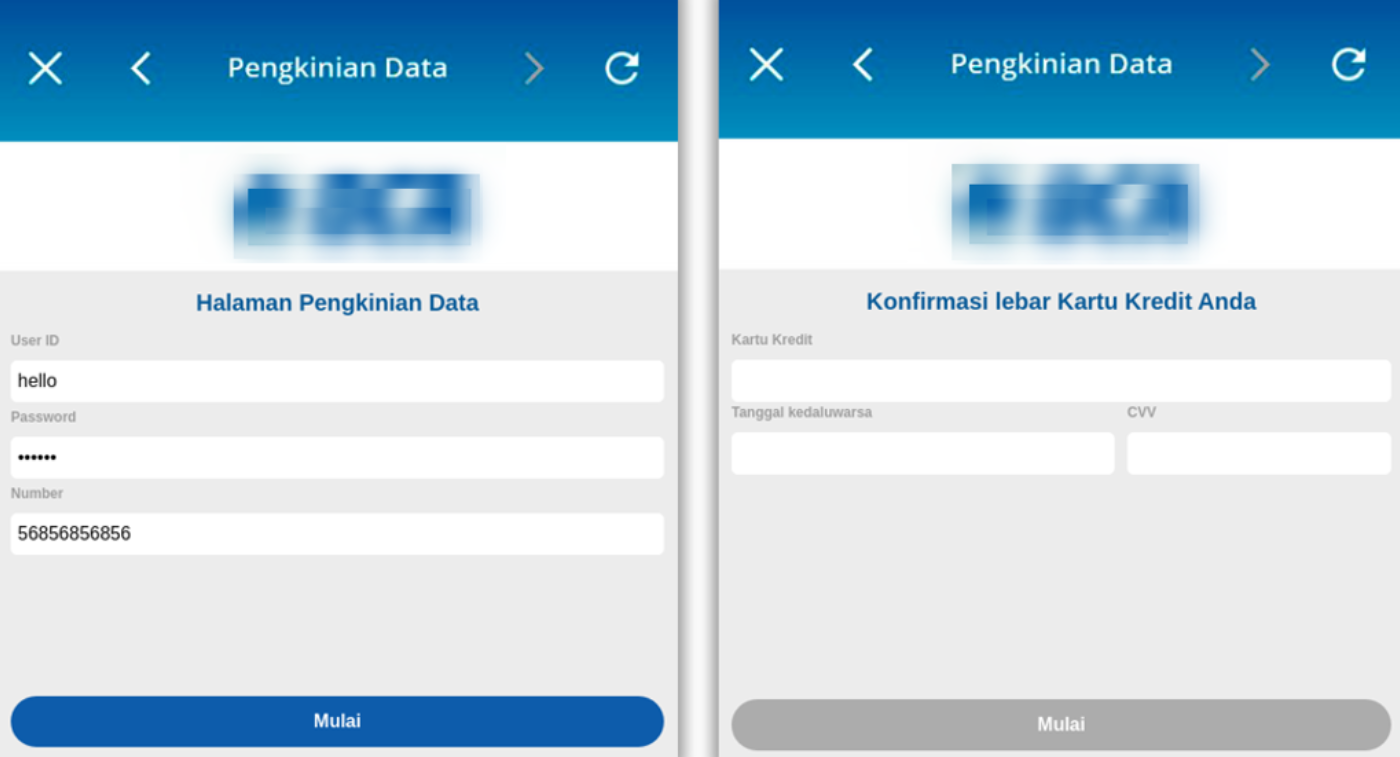 In many instances, the web injects delivered by InTheBox include a secondary overlay interface that appears to the user as a form. This form requests the user to enter sensitive information such as:-
Credit card numbers
Expiration dates
CVV numbers
An examination of the JavaScript call functions in InTheBox's web injects uncovered a pattern. The pattern indicated the presence of a similar JS-embedded HTML android web injects that was developed with the intention of collecting credentials from a banking application used by individuals in Brazil. 
The web inject was designed to appear as an overlay interface within the banking app, tricking users into entering their sensitive information which would then be harvested by the web inject's JavaScript code.
Additionally, it was noted that the same call functions that were found in the Brazilian banking application web inject were also used in another Android web inject. This second web injection targeted a mobile banking application used by individuals in Spain and was discovered in January 2023.
The JavaScript code found in the web inject was observed to be communicating with a C&C server. The server was hosted at MivoCloud SRL, a Moldovan-based offshore hosting service, and its address was:- 
http[:]//194[.]180[.]174[.]127/uadmin/gate.php
The Spanish bank mobile application that was targeted by the web inject discovered in January 2023 was also targeted recently by another web inject. This second web inject was observed to communicate with a Command-and-Control (C&C) server located at:-
http[:]//85[.]31[.]46[.]136/uadmin/gate.php
The C&C server was hosted by Namecheap, a well-renowned domain registrar, and web hosting provider. 
Recommendations
Here below we have mentioned all the recommendations offered by the security experts:-
Make sure to download the apps from official stores only.
Always use licensed Anti-viruses.
Make sure to keep your device up-to-date with all the latest security updates and patches.
Do not open any unknown links received through messages or emails from unknown sources.
Make sure to enable Google Play Protect on your Android device.
Be cautious while giving permissions to apps.
Always keep your installed apps updated.
Perform a factory reset on the device as a part of the process to resolve any issues.
If a factory reset is not feasible, another alternative is to remove the application.
Network Security Checklist – Download Free E-Book
Source: gbhackers.com