A new leak for Samsung's upcoming Galaxy Z Flip 5 is making the rounds revealing some detailed specs for the external screen alongside images of the display in action.
This information comes from notable industry insider Ice Universe on Twitter, who claims the outer display will measure 3.4 inches diagonally and sport a resolution of 720p (720×748 pixels) and 305 ppi (pixels per inch). So, you're looking at a pretty decent screen although it isn't anything mind-blowing. It is, at the very least, better than the Galaxy Z Flip 4's tiny 1.9-inch cover display. What's more, Samsung may be preparing to take advantage of all that free real estate with a new series of widgets.
Exclusive Samsung Galaxy Z Flip5 external screen 720x748p 3.4",305ppi pic.twitter.com/Gh8juw4BmiMay 4, 2023
See more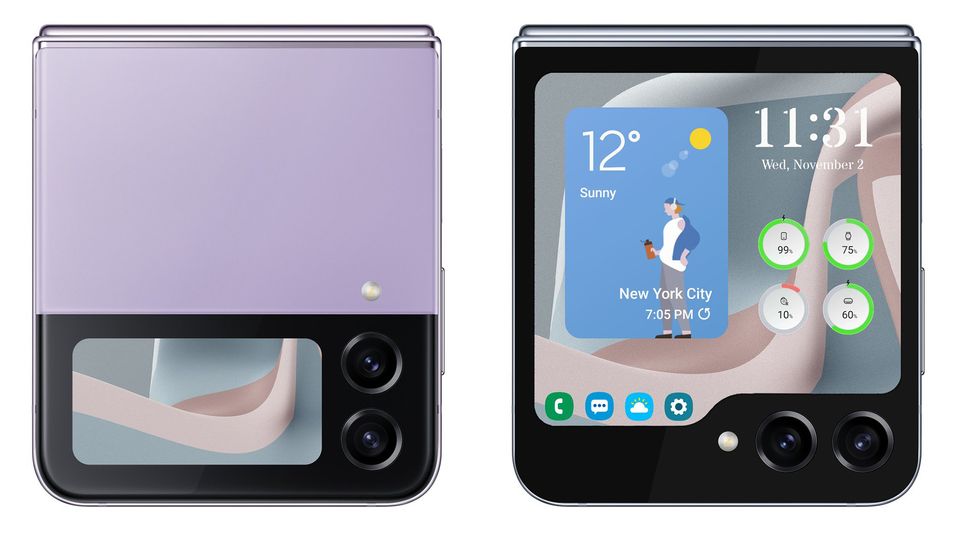 Looking at the image Ice Universe provided, the Z Flip 5's external screen may be outfitted with a calendar widget complete with a clock and another one for the weather forecast. The battery indicator is pretty interesting because the leak shows the battery status of four devices connected devices. You have one for the Flip 5 itself plus a battery gauge for what appears to be a smartwatch judging by the icon. As for the other indicators, it's difficult to make out what they are. One could be for a smart speaker, but the rest of the icons are pretty vague.
You will notice in the corner of the outer display is a series of four contextual apps for calling, texting, checking the weather, and adjusting the device's settings. On the surface, this opens up interesting possibilities as users may be able to send texts without having to unfold the Flip 5. It could all be done on the cover screen. We do, however, worry if the icons are too small. Imagine trying to send a text only to inadvertently launch the weather or the phone app. That can get annoying pretty fast.
Stiff competition
It's worth mentioning these specs are coming a few days after another leak showing off renders of the Z Flip 5. This latest round does add some credibility to the older information which also claimed the outer display would be 3.4 inches with a notch for the camera lens.
As with every leak, take this all with a grain of salt. Things can always change. The outer screen could actually be a flat square without the notch. But assuming it is all true, the Galaxy Z Flip 5 will face some stiff competition. Another spec leak reveals Motorola's Razr 40 Ultra will have its own flat square cover display outputting a resolution of 1056 x 1066 pixels.
Either way, we'll just have to wait until later this summer for more info as that's when we expect the Galaxy Z Flip 5 to officially release.
If you can't wait three months or so for the launch, check out TechRadar's list of the best foldable phones for 2023. 
Source: www.techradar.com