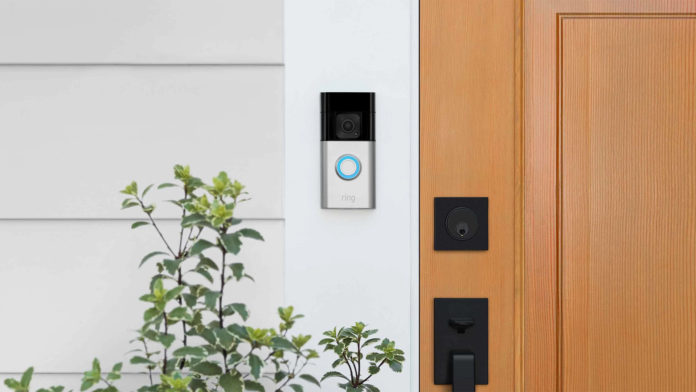 It's been a while since we've seen Ring roll out a brand-new video doorbell. Well, the drought is almost over as the company revealed this week its upcoming Battery Doorbell Plus, bringing new features and improved battery life to the table.
The last time we saw a doorbell from Ring was the Video Doorbell 4 back in 2021 which we were fairly impressed by – even if the lack of support for Google Assistant was a little disappointing. Comparing the two side-by-side, the Battery Doorbell Plus is an improvement in certain areas while remaining the same in others.
Starting with the new, Ring took care to enhance the battery, claiming it's "three times better than [the] first Ring Video Doorbell" although the company doesn't explain itself any further. It does, however, sport the highest video resolution of any Ring battery doorbell to date at 1536p (2048×1536 pixels), "providing a crisp and clear view" according to the company. The field of view is a little smaller than the Video Doorbell 4 as it's 150 degrees by 150 degrees. But you'll able to see the full person outside thanks to its Head-to-Toe Video feature, giving the Battery Doorbell Plus the ability to stream video with a 1:1 aspect ratio.
Migrating features
Apart from that, the rest of the Battery Doorbell Plus' toolkit consists of features we've seen before on other Ring devices. You have things like Live View and Two-Way Talk "to speak to people at your door in real time". If you're not at home or can't answer the door for whatever reason, you can always set up Quick Replies to have preset responses. The Battery Doorbell Plus is also compatible with Amazon Alexa so you can communicate via an "Echo or Fire TV device" with the person on the other end.
The battery life can be improved upon even further, according to Ring, by utilizing other previously seen tools. Advanced Motion Detection (opens in new tab) can "conserve power usage" by only activating when it detects "events that matter to you" like people or objects. But if you prefer a permanent solution, the company states you can connect its new doorbell to an at-home solar panel for constant power.
Availability
The Battery Doorbell Plus is currently available for pre-order on Ring's website and Amazon for $179.99 making it cheaper than the Video Doorbell 4 . Shipping starts on April 5. You can add more features if you want by subscribing to Ring Protect (opens in new tab). Prices, as you can imagine, depend on the tier. The highest tier, for example, adds in 24/7 Professional Monitoring that instantly calls emergency responders if there's a break-in at your house. Just be aware that's an extra $20 a month for that protection.
While we have you, be sure to check out TechRadar's list of the best video doorbells for 2023 to see some high-end devices.
Source: www.techradar.com