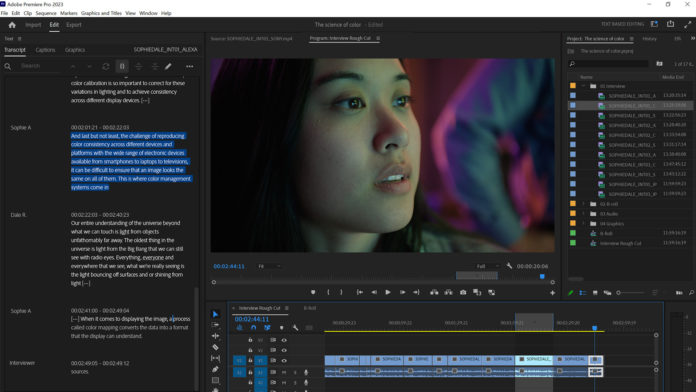 Ask any video editor and they will tell you post-production can take forever to finish. In an effort to ease up the workload, Adobe is currently working on a number of new editing features for its Premiere Pro and After Effects software.
Between the two, Premiere Pro is taking the lion's share of the upgrade sporting some AI-powered tools in its package (opens in new tab). Text-Based Editing, in particular, utilizes the company's Sensei AI framework to "automatically [analyze] and [transcribe] clips" into text. That way, another editor or producer can grab said text as it appears and then paste it into a video's timeline in any order. To further help with consistency, Adobe is introducing "Automatic Tone Mapping and Log Color Detection" allowing users to combine "HDR (High Dynamic Range) footage from different sources" into one project. This could eliminate the need to manually tweak footage just to have a uniform look. 
Additionally, Adobe is throwing in some collaboration tools. Sequence Locking, for example, allows editors to lock a portion of a video "so it becomes view-only" to everyone else. Work While Offline, as the name suggests, lets you continue working offline where you can then upload your changes at a later time without messing with other people's edits. And there are Presence Indicators that show who's working on what.
Other notable features in the update include GPU acceleration for select professional formats like Sony Venice V2, support for four new languages like Swedish in Speech to Text, plus background autosave. The company also claims this is the fastest version ever of Premiere Pro thanks to some "significant under-the-hood improvements", but other than the aforementioned GPU acceleration, Adobe doesn't provide exact details on how much better it is.
Affecting After Effects
The changes for After Effects are mostly optimizations like "faster timeline layer selection… [and] new keyboard shortcuts for Selectable Track Mattes. The Properties Panel will now display context-sensitive options based on software selections so tools are more easily available. Plus, you don't have to dig through a maze of menus. Arguably the biggest change is the addition of the ACES (Academy Color Encoding System) and OpenColorIO tools to ensure footage quality stays consistent when "sharing assets with other post-production apps". 
We reached out to Adobe to see if there's any way users can try out these features before release. A company representative told us people can download Premiere Pro Beta (opens in new tab) to get their hands on just Test-Based Editing. The rest of the update "will be on display at the 2023 NAB (National Association for Broadcasters) Show from April 15 – 19 in Las Vegas". For those not going, you'll just have to wait for the official launch set for some time in May 2023.
It's no secret Adobe's software is expensive and not the most user-friendly, to say the least. If you're looking for other options, be sure to check out TechRadar's list of the best After Effect alternatives for 2023.  
Source: www.techradar.com