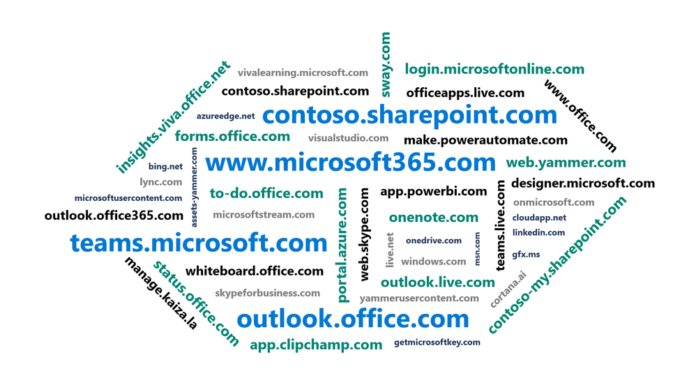 The full range of Microsoft 365 products and services designed to cater to the communication and collaboration needs of enterprises, educational establishments, and personal users, are being unified with the launch of a new .cloud.microsoft domain.
The company says the change was motivated by its ever-growing suite of cloud-based offerings, leading to a disparity that means many are hosted across multiple domains, a move accentuated by the web app boom caused by the pandemic.
The new .cloud.microsoft domain will replace domains like .sharpoint.com, .microsoft.com, .office.com, and so many more.
.microsoft domain for all
In reality, hosting different services on different domains hasn't really caused too much of an issue beyond simplicity and neatness, but the new domain should make it easier to navigate to your chosen Microsoft service without having to rely on good memory, a bookmark, or a Google search.
The company's decision to go with a 'dot brand' top-level domain (TLD) is intended to improve trust and security, much like .gov websites which assert a degree of integrity. In an effort to get it right from the get-go, Microsoft chose .cloud to precede the new domain for its durable and extensible nature, in the hope that it would be applicable to new services launched in the cmoing years and decades.
There's a catch with this though, so don't expect to be able to use .cloud.microsoft straight away. From launch, only net-new apps will get the treatment, with existing offerings likely to take much longer given the complexity and dependencies involved.
The company didn't give an indication to the timescale beyond its mention of a "slower pace," but its plan is to ensure that end users needn't take any further steps or action to use the revised services.
"As Microsoft cloud services have grown over the years, the domain space they live on has grown as well – into the hundreds," Microsoft wrote in a company blog (opens in new tab) announcing the news.
"Over time, this fragmentation has created increasing challenges for end user navigation, administrative simplicity, and the development of cross-app experiences. That's why today we're excited to announce that Microsoft is beginning to reduce this fragmentation by bringing authenticated, user-facing Microsoft 365 apps and services onto a single, consistent and cohesive domain: cloud.microsoft."
Source: www.techradar.com