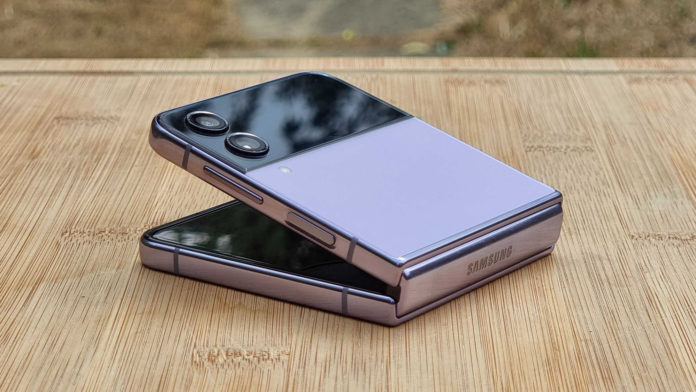 It seems there's quite a significant design change coming to the Samsung Galaxy Z Flip 5, if freshly leaked unofficial renders are to be believed – and that design change involves a much larger cover screen on the outside of the phone when it's folded shut.
These renders are provided by regular maker of renders OnLeaks (opens in new tab), and shown off at MediaPeanut (opens in new tab). They're based on unconfirmed information from inside sources, so take them with a pinch of salt for the time being.
That extended cover display is the star of the show here, with a small tab cut out for the dual-lens rear camera. We've seen this bigger cover display before in an earlier leak, but here we get a much better idea of how it's going to look.
Good Morning #FutureSquad! Here comes your first and most comprehensive look at the #Samsung #GalaxyZFlip5 (360° video + crispy 5K renders + dimensions)!On behalf of new Partner @MediaPeanutBlog 👉🏻 pic.twitter.com/excySevmYIApril 30, 2023
See more
Rumored specs
These renders also show off the main display of the Galaxy Z Flip 5, which is expected to measure 6.7 inches, corner to corner. Inside the phone we're most probably looking at a Snapdragon 8 Gen 2 processor paired with 8GB of RAM.
In terms of the rear camera system, the rumor is that the Galaxy Z Flip 5 is going to feature the same dual-lens 12MP+12MP module as its predecessor. However, there is one hardware upgrade we've heard about: IP68 water and dust resistance.
Considering the reliability of the source and how these renders match up with previous leaks, we'd say it's a fairly good bet that this is the actual design of the Samsung Galaxy Z Flip 5. We should find out for sure at the end of July.
---
Analysis: cover display trends in 2023
You don't have to be a seasoned mobile industry analyst to notice the trend that's happening this year with flip foldable phones that use the clamshell form factor: their outer cover displays are getting significantly bigger.
Whereas something like the Samsung Galaxy Z Fold 4 has a more conventional phone-like display on the outside, these flip phones are much smaller when closed, and that gives manufacturers and engineers less room to work with.
However, they're now started to make the most of that room: the Oppo Find N2 Flip has a 3.26-inch cover display, the Galaxy Z Flip 4 is rumored to follow suit, and there have been similar rumors floating around about the Motorola Razr 2023.
We're assuming the cost of developing and fitting these bigger (but still small) screens has dropped to the point where they can be added without ramping up the price of the phone itself – and that extra size potentially makes them much more useful.
Source: www.techradar.com