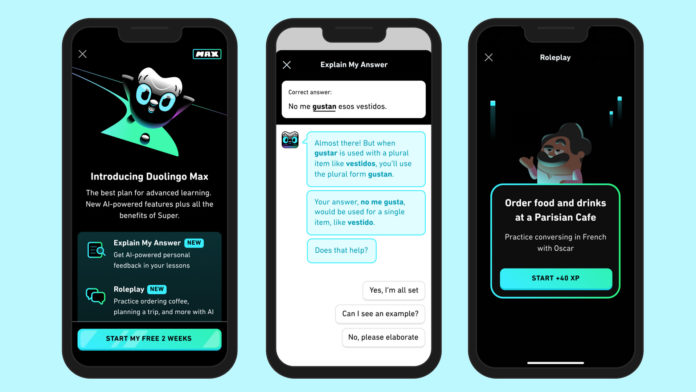 Duolingo is launching a new virtual tutor that aims to replicate real-world scenarios to help students learn better. And it's all powered by the recently released GPT-4 AI model.
Making its home in the new Duolingo Max subscription tier (opens in new tab), the tutor consists of two features: Explain My Answer and Roleplay. The former, as its name suggests, gives users the opportunity to, if they're confused by something in DuoLingo's initial response, ask the chatbot Duo to give a detailed explanation of why their answer was right or wrong. In an example video (opens in new tab), the AI explains why select Spanish verbs must be conjugated a certain way given the context of the sentence. 
Duo, however, is not universally available on all language exercises, just certain ones. On those few, a Explain My Answer button will appear at the bottom of the screen after you attempt an exercise.
Roleplay (opens in new tab), on the other hand, allows users to engage in a realistic conversation with the AI so they can practice their language skills. According to the post, no two chats will be exactly the same. In one instance, you could be talking to "waiter" as you order coffee at a French café or discussing vacation plans in Spanish with a "friend." And at the end of every Roleplay, Duo will give you some feedback based "on the accuracy and complexity of [your] responses, as well as tips for future conversations." 
Limited release
Do be aware that the GPT-4 AI behind Duo is not perfect. For the new release, research laboratory OpenAI took the time to improve GPT-3's chat abilities so it can produce more natural-sounding text, similar to how people normally speak – at least in English. GPT-4 can create language guides such as utilizing English mnemonics for Spanish words. However, as seen on Twitter (opens in new tab), those mnemonic guides can be pretty hilarious and not always in a good way. Duolingo admits its virtual tutor will make some mistakes. As such, the company is asking users to give the AI some feedback which you can do by selecting either the "thumbs-up" or "thumbs-down" emoji at the end of every Explain My Answer session.
Currently, Duolingo Max is seeing a limited roll-out. The AI will only be available in either Spanish or French for English speakers on iOS, but there are plans to "expand to more courses, language interfaces, and platforms in the coming months", according to a company representative.
To subscribe to the tier, you have two methods. You can either pay $29.99 for Duolingo Max or $167.99 for the whole year. Breaking everything down, the yearly cost comes down to $13.99 a month. Additionally, you also get every feature under Super Duolingo which includes "unlimited hearts [for lessons], no ads, and [a] personalized review through the Practice Hub."
While we have you, be sure to check out TechRadar's list of the best AI writers for 2023 if you need content done fast. 
Source: www.techradar.com