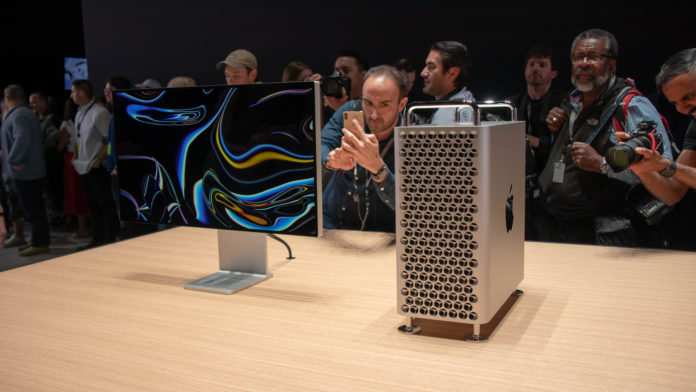 It seems like we're in the midst of something exciting for AMD when it comes to the creative market.
Team Red seems to have gotten a bit of its mojo back after having launched a pair of new graphic cards for workstations (the Navi-3 infused W7900 and the W7800), GPUs may be the precursors to the followup of the Radeon Pro W6800X Duo, which can be found in the Apple Mac Pro and pairs two GPU on one card. 
There's also the more widespread adoption of EPYC as a workstation-class processor (rather than just for servers) with at least a dozen boutique vendors worldwide offering AMD's Xeon rival in workstations (The Mediaworkstations aX2P deserves an accolade for being by far the most innovative with its 6-display mobile workstation).
The Mac Pro is the last Apple product that runs on non Apple silicon and while many may argue that the Mac Studio – Apple's most powerful PC to date – is a great substitute for the majority of creatives, there's a slim but still (probably) significant portion of professionals that would need (and want) more modularity and expansion capabilities.
Other than the fact that the Studio can be configured with up to only 128GB of RAM (the Mac Pro can take up to 12x more RAM), its GPU performance is still far behind what AMD and Nvidia's discrete professional video cards can achieve. So unless Apple chooses to eliminate the Mac Pro line (because it is no longer a priority) or if it manages to magically solve all the current obstacles to a Mac Pro with Apple Silicon, chances are the next Mac Pro will still be based on x86.
AMD-based Apple Mac Pro?
Is there a potential for an Epyc-based Mac Pro on the horizon? We wouldn't discount that possibility. AMD is no longer the challenger, Intel is (at least based on market capitalization) and while future Intel Xeon products look very promising, right now, AMD, with its Zen 4 architecture, has the upper hand and seems to be the logical partner for an x86-based Mac Pro, one that will buy Apple a few years until it finally get the Mac Pro on its own silicon.
So what would a top-of-the-range Mac Pro based on AMD parts look like? We went for a fairly comparable spec but there's the possibility that Apple goes for a significantly more powerful system as Epyc processors can be paired with a total of 192 cores.
Swipe to scroll horizontally
| Header Cell – Column 0 | Mac Pro 2019 | Mac Pro 2023 |
| --- | --- | --- |
| Processor | Intel Xeon W (28 cores) | AMD Epyc (32 cores) |
| Memory | 1.5TB ECC DDR4 | 1.5TB ECC DDR5 |
| Video card | 2x Radeon Pro W6900X with 32GB each | 2x Radeon Pro W7900 with 64GB each |
| Storage | 8TB SSD PCIe 3.0 | 16TB SSD PCIe 4.0 |
| Total price | $51,799 | $51,999 (??) |
Source: www.techradar.com