Upcoming old-school FPS Warhammer 40k: Boltgun looks like a return to the genre's golden era and I couldn't be more excited. 
Warhammer 40K: Boltgun was announced back in June 2022 with only around 10 seconds of actual gameplay shown in the stylish retro teaser. Now I've had my first proper look at all the gory action, I can't wait to see how Warhammer 40k's beautifully over-the-top violence of the franchise translates to the Build Engine-inspired design of early 1990s shooters. 
No release date has been announced for Warhammer 40K: Boltgun yet, however, we know that it's coming to PS5, Xbox Series X, Nintendo Switch, and PC as well as previous-gen consoles. That means you're unlikely to miss out when this title drops later this year.  
It's certainly one of my most anticipated upcoming games of 2023, along with the long-awaited Warhammer 40K: Space Marine 2 which is scheduled to launch this year as well. It looks like 2023 is shaping up to be a great time for Warhammer 40k fans.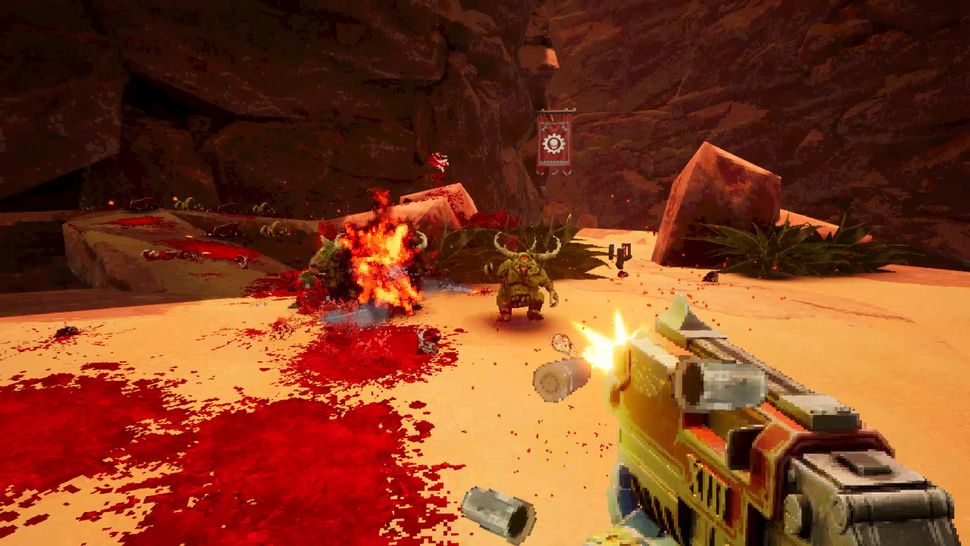 Rip and tear 
Despite looking like it could run on the Build Engine, as we've seen historically with retro revival titles such as A.W.O.L. and Ion Fury, Warhammer 40K: Boltgun is actually running on Unreal Engine 4. This isn't exactly surprising given the level of lighting and particle effects that can be seen in the new gameplay. It's a truly beautiful title that blends a 3D polygon-based game world with heavily detailed 2D sprite work. 
However, the game isn't without its own innovations. For instance, in Boltgun, some enemies have health bars that appear above their heads. This was quite unconventional for the kinds of old-school shooters that Boltgun emulates, as in-game body damage would be represented by the sprites getting more battered and bloody, rather than with health bars. I'm not sure how helpful having this information displayed will be when you've got a room of demons and other nasties to clear out but I'll have to see nearer the time of release. 
We've seen some excellent boomer shooters in recent years such as Dusk, Force Reboot, and Darkverse: Rogue. This latest Warhammer 40k title certainly looks promising. 
We'll be bringing you more on Warhammer 40K: Boltgun as more news develops. 
Source: www.techradar.com