The rumored iPhone 15 Ultra is expected to be Apple's priciest phone so far, but even that flagship will be dwarfed by the price an unopened, original iPhone has just achieved at auction – a record $63,356 (around £52,635 / AU$91,630).
Before you go rummaging through your drawers, the key to that high price was that the auctioned iPhone was "factory sealed", which means that even its cellophane wrapping is still intact. This is a big deal to collectors, which meant someone was willing to shell out the price of a Tesla Model 3 ($42,990 / £42,990 / AU$64,300) with enough spare to throw in a Subaru Impreza. 
A similar original iPhone sample was sold at auction in October 2022 for $39,339 (around £32,680 / AU$56,890), which means that their value is rising sharply. Back in 2007, a first-generation iPhone 8GB would have cost $599 – that means its price has risen by more than 105 times.
According to Business Insider (opens in new tab), the phone's original owner Karen Green (a cosmetic tattoo artist) was given the phone in 2007 as a gift for starting a new job. There was just one problem; at the time, iPhones were tied to AT&T, and Green already had three phone lines tied to Verizon. So she left the phone unopened on a shelf for years.
A few years ago, Green heard about the rising prices of original iPhones and went on a daytime TV show called Doctor & the Diva to get it valued, where it was estimated to be worth $5,000. Since then, the prices of factory-sealed iPhones have sky-rocketed, hitting the $30k mark last year and now going for double that.
Naturally, the LCG auction house (opens in new tab) that sold this record-setting iPhone thinks prices will continue to rise. Its listing says that these types of examples are "widely regarded as a blue-chip asset amongst high-end collectors" and that "many believe the space is still in its infancy". Considering the prices achieved by other pieces of retro technology, like the Leica O-Series, it may well be right.
---
Analysis: Expensive, but far from the priciest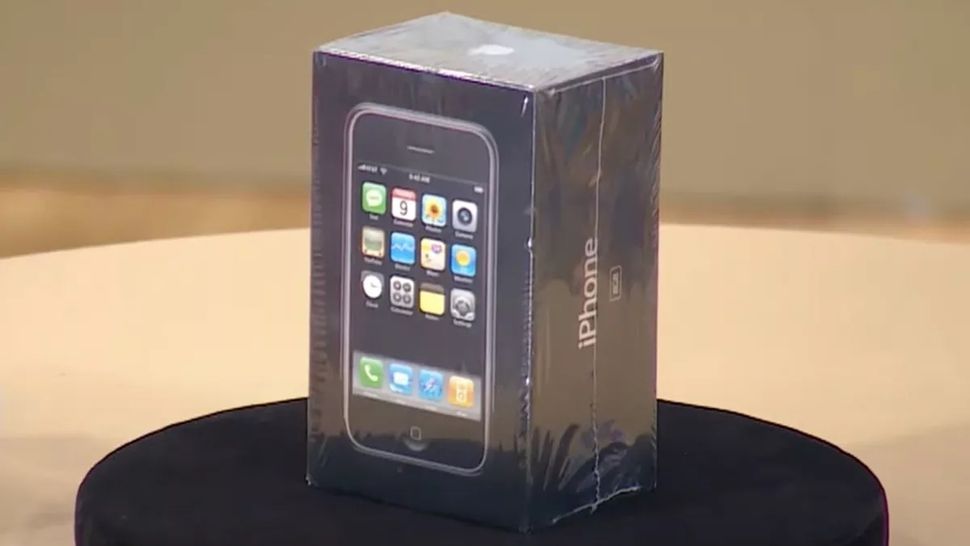 A combination of significance and rarity is a formula that sets auction houses ablaze – and while a factory-sealed original iPhone ticks both boxes, it's far from the priciest example of retro Apple technology.
An original Apple 1 computer, for example, was sold for $442,118 in December 2022, while just a few months earlier a prototype sold for nearly $700,000 (opens in new tab). Part of the reason for these incredible prices is that Apple made only 200 versions of the Apple-1, with only about 175 ever sold.
But even these holy grails of computing pale in comparison to a recent record set by vintage camera. In June 2022, the Leica-O stunned the photographic world by selling for a world record $15.1 million (opens in new tab), which was almost five times its high estimate. Understandably, this made it the most expensive camera ever made.
That example was one of only 23 prototypes made by Ernst Leitz Wetzlar (the ultimate founder of Leica) and was apparently also the personal camera of Oskar Barnack, who invented the 35mm Leica camera. So until an original iPhone that was also the main phone used by Steve Jobs is discovered, the record for Apple phones could stay at the relatively lowly mark of $63,356.
If you're feeling dispirited that you didn't hold onto your original iPhone, you can lift your spirits by reading our Apple iPhone review from 2007 – which gave it four stars and concluded that "it could do more".
Source: www.techradar.com