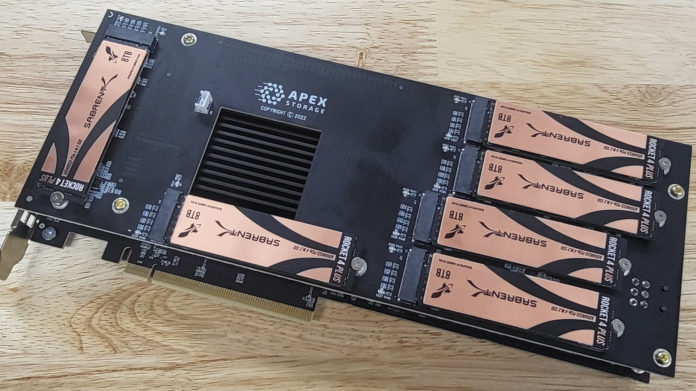 Back in March 2023, Apex Storage, a specialist in large capacity, multi-SSD storage, unveiled an add-in card (AIC) that can accommodate a whopping 21 PCIe SSD. Earlier today Sabrent, a popular storage vendor, confirmed that they will sell the card as the Sabrent Apex X21 destroyer with a price tag likely to be around $3,000 without any SSDs.
At the heart of the X21 is the HighPoint SSD7540 PCIe Gen4 x16 RAID card which has been tweaked to accommodate 21 cards. Why 21? Because that's the maximum number cards that Apex could physically fit on the AIC. 
Sabrent also said that "The X21 is not equipped with a RAID controller chip, which allows end users to set the X21 up depending on system requirements. Also, no fans are equipped on the card, so users would require cooling fan support to operate."
The US-based company has been testing the card with their own Rocket 4 Plus 8TB products and a spokesperson for Sabrent confirmed that the X21 will be compatible with 16TB SSD. When pressed for dates and prices, our contact said that these 16TB SSD (likely to be Rocket 4 Plus) will cost around $2000 at launch, a significant but expected price premium.
He added "Remember when the first 8TB's came out they were like $2K, we had several hundred thousand $'s to recover, and now they are pretty cheap compared to then. We have to pay a lot of money to have those developed; then after they get in the supply chain and sold for a bit, we generally lower the price."
Cutting edge technology to bleed you dry
The X21 loaded with 21 16TB cards would cost about $45,000 when made available later this year. Sabrent told me in June 2022 that they would launch a 16TB SATA enterprise SSD but no M.2 SSD of this capacity for a foreseeable future and news that it was testing a 16TB M.2 SSD emerged back in …. December 2020.
This card is primarily geared towards a prosumer/professional/enterprise market. Think workstations, video editing computers and the likes. With sequential read and write speeds up to 30.5GBps and 28.5GBps, respectively, a random performance of 7.5 million IOPS reads/6.2 million IOPS writes plus full UEFI/Secure Boot Support, the X21 offers both speed and capacity for those who can afford it. 
And yes, you will be able to combine a pair of these in a RAID-0 configuration to double the performance and the capacity. Just make sure that you've got a solid backup plan (perhaps with a solution from our best cloud backup or best backup software lists) in case of snafus. After all, with 42 SSD and a total combined storage capacity of 672TB, the (minute) risks of something going wrong increase by an order of magnitude.
Source: www.techradar.com