If you've got a PS5 and haven't upgraded your TV recently, then you're probably considering getting one of the best 120Hz TVs. These sets are able show double the number of frames per second compared to older or cheaper 60Hz models, which means games can look much smoother and feel more responsive – it's a key feature we're looking for in our guide to the best gaming TVs.
But 120Hz TVs are more expensive – until the last year or so, it's been limited to higher-end options only, though it's now arriving in some more mid-range options, at least. But it's still something you'll have to pay more for, even if it's not as much as it used to be – and not everyone's budget will stretch to the price of even a cheaper 120Hz TV. However, there are a few more affordable TVs around that are technically 60Hz, but can offer 120Hz support, with a bit of a twist.
Two examples coming this year are the TCL Q6 range in the US, the TCL C645 in the UK and other regions, and the Philips The One 8508 in the UK. The Philips TCL C635 that's currently available in Europe and other regions also supports the feature below.
These TVs support a technology called Dual Line Gate (DLG), which basically enables the 60 frames-per-second panel to appear to show 120 frames per second, but the deal is that you have to sacrifice half of the vertical resolution when you're in this mode with the Philips TV, while the TCL C635 drops the resolution to 2K (otherwise known as Full HD).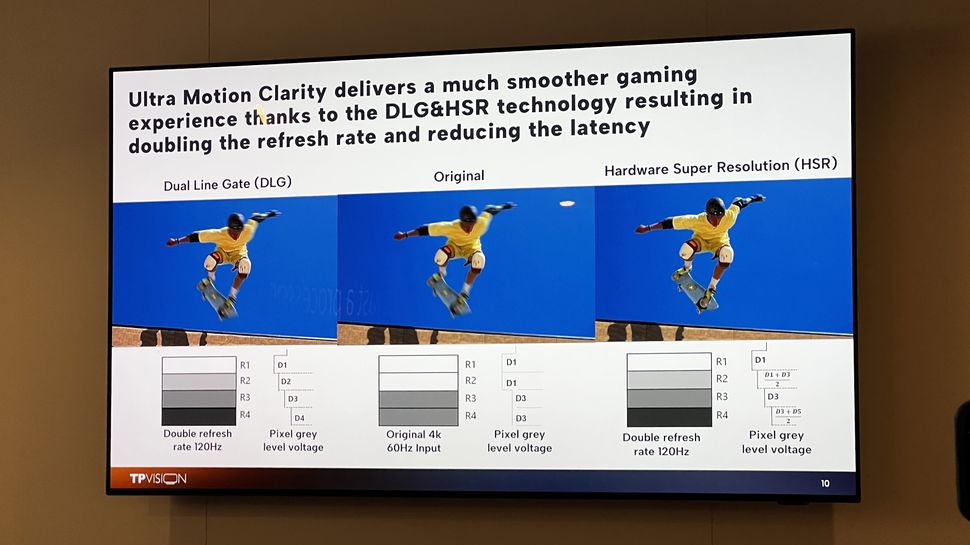 I saw a demo of this in action on a Philips TV, compared directly to the same screen in its standard 60Hz mode as well as to a natively 120Hz TV. I can tell you that there's a great improvement in the smoothness of motion when using the Dual Line Gate tech compared to 60Hz, though it wasn't quite as slick as the natively 120Hz screen.
And in the case of the Philips, the halving of the vertical resolution wasn't much of a problem, at least in my limited demo. That's partly down to a more advanced version of the tech being used, called 'Hardware Super Resolution', which adds a lot of sharpness back into the image – but I also think halving the resolution is not much of a problem if your whole deal is that you're going to view fast-moving action where you may not be taking in fine detail anyway.
I didn't get to test the input lag for the TV running in DLG mode, but it should stay low – that's the whole point, after all. So for those who want extra responsiveness when playing Rocket League or Warzone at 120fps but need to save the pennies when getting a new TV, a DLG-ready TV could be a great option. 
I'd still recommend pushing to a truly 120Hz set if you can, because the smoothness will be even stronger, you'll get that extra resolution and detail back, and they usually have better image quality overall anyway because the panels are more advanced – but I'm glad there are more options available. 
I don't think we'll see DLG widely advertised, so keep your eyes open if you like the idea in case other sets turn out to support it.
Source: www.techradar.com