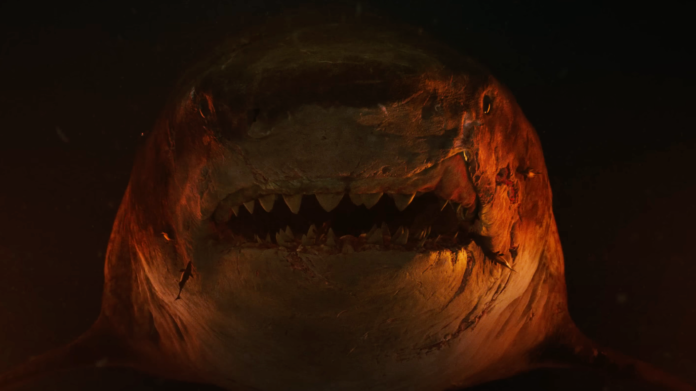 The first trailer for Meg 2: The Trench is here, and it looks like it'll be exactly the kind of OTT B-movie that the first Meg should have been (but fell slightly short of). The earlier film was just a tad too straight-faced for a movie where no one will believe Jason Statham that a giant shark is living below a special layer of ocean and will eat them soon.
But Meg 2 is not straight faced. Or, at least, not Meg 2's trailer, which starts with dinosaurs and ends with Jason Statham using a jetski to surf on top of a wave so he can attack the giant shark.
Meg 2 is released in theaters on August 4th, and will likely come to HBO Max after that, because it's a Warner Bros. production. Will it rank among our best HBO Max movies? Well, here's the trailer – make up your own mind.
One of the things that intrigues me about the movie is that it looks like it's taking inspiration from assorted versions of King Kong, where a group of scientists/documentarians journey to a strange land full of terrifying creatures. Pretty much every version of the movie includes this, from the '30s and '70s versions to Peter Jackson's 2000s version, all the way to Kong: Skull Island.
There's usually some kind of Kong vs dinosaur battle, and Kong is somewhat ambiguous in these early stages – scary, but also a savior. And it looks like Meg 2 is going for a bit of this too, opening with a megalodon treating a T. Rex like a Kong… but as in the dog toy, not the ape.
Then we get shots of an expedition down to (presumably) the trench of the title. As people walk around in space – sorry, sea – suits with guns (that work under water, I guess), it looks like they're about to get attacked by a giant octopus or squid hidden in the ocean bed. We don't see much of what happens next, but who wants to bet a certain large-scale shark will turn out to be the thing that keeps them alive?
I'm not sure how long my King Kong analogy will hold up past this point, though. I don't think the '70s King Kong included mech suits or a scene of Charles Bronson riding on top of a bi-plane with a spear in hand, but more's the pity.
I wouldn't be surprised if I'm not reading too much into the trailer and it really is nodding in King Kong's direction – director Ben Wheatley is not averse to tackling a classic: his 2015 movie High Rise is an adaptation of JG Ballard's novel, and he directed Netflix's version of Daphne du Maurier's Rebecca. And actually, my issue with that Rebecca movie was that it wasn't intense or weird enough, but Meg 2 looks plenty intense and weird, so I'm on board. So to speak.
If you're looking for higher-brow fare, you might prefer the latest trailer for Christopher Nolan's WWII epic, Oppenheimer. But I'll take both, thank you.
Source: www.techradar.com