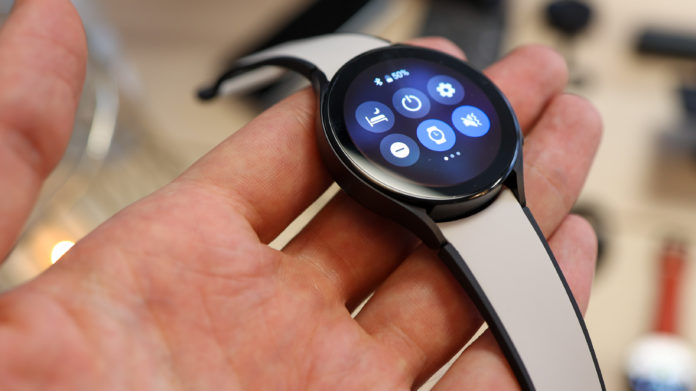 Samsung's rumored Galaxy Watch 6 might bring some significant design changes to the series if the latest rumors are to be believed. The news this time around is that the device's watch face will have a smaller bezel to increase the display's size.
This information comes from renowned industry leaker Ice Universe on Twitter (opens in new tab) who claims the screen size on the Galaxy Watch 6 is "100 percent confirmed" to be 1.47 inches, up from the Galaxy Watch 5's 1.4-inch display. As a result, the resolution will subsequently be "improved", leading to a better "screen proportion". When asked on Twitter if there will also be a better-performing Pro version, Ice Universe stated there will be Galaxy Watch 6 Classic model but didn't elaborate.
You may be wondering, "Does seven-hundredths of an inch really make that big of an impact?" It kind of does, actually. Bigger screens mean easier interactivity, after all.
We also have reason to suspect Samsung is taking a page out of Apple's smartwatch playbook. For example, if you compare the now-aging Apple Watch 6 and 2021's Watch 7, you'll notice both devices are fundamentally the same, at least internally. The biggest difference is the latter has a 20 percent larger screen at 1.9 inches versus the Apple Watch 6's 1.78-inch display (the Apple Watch 8 also has a 1.9-inch display). A relatively minor difference; however if you compare the two side-by-side, the Watch 7 display is noticeably larger and apps look less squished on it.
Hardware upgrade
Granted, the size difference between the two Apple Watches is greater than the purported Galaxy Watch increase. But it's still, potentially a decent upgrade and you can't beat having better resolution. Our main concern is the battery life, though Samsung may have a solution for that. According to recent reports, the Galaxy Watch 6 will have either a 300mAh or a 425mAh battery to feed the more power-hungry screen. As for other design changes, Ice Universe stated back in February (opens in new tab) that the Galaxy Watch 6 will have a curved glass screen similar to the Google Pixel Watch.
Samsung, so far, has yet to reveal anything official about its new smartwatch so take this information with a grain of salt. Hopefully, the company resurrects the rotating bezel as seen on the Galaxy Watch 3. A release date for the Galaxy Watch 6 remains a mystery; although if history is any indicator, expect an August launch.
If you're looking for a wearable device that doesn't break the bank, check out TechRadar's list of the best cheap smartwatches for 2023. 
Source: www.techradar.com