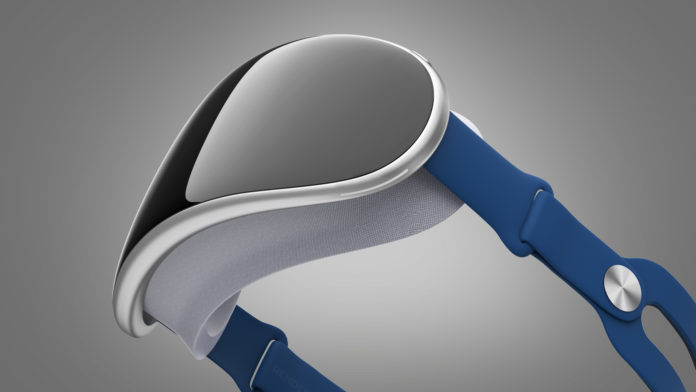 New rumors for Apple's virtual reality headset, the reportedly named Reality Pro, suggest the company is taking an unusual approach by giving it an external battery pack.
This round of information comes from a recent Bloomberg newsletter (opens in new tab) by notable industry analyst Mark Gurman who claims Apple made the choice in an effort to "reduce weight and improve comfort." The battery pack is said to be small enough to fit inside your pocket and will connect to the VR headset via cable. This design choice flies in the face of most headsets which typically have an internal battery like the Oculus Quest 2.
Gurman goes on to say the pack looks similar to the iPhone MagSafe battery. However, it's bigger at "about the size of an iPhone but thicker." It's revealed that the Reality Pro will have two ports: a USB-C connector for handling data while the other is a proprietary charger input. Gurman states the charging cable jutting from the pack will connect to the port magnetically where future users will then have to "rotate it clockwise to lock it in" place.  
Clunky design
Now here's the kicker: the charging cable is integrated into the battery and apparently that battery only lasts about two hours. You won't be able to hot-swap in a third-party power bank with a longer lifespan, making what should be a simple process pretty cumbersome.  What's strange is the pack can be charged via USB-C and can connect to a MacBook Pro power adapter, according to the newsletter. Given the short battery life, future users will probably be forced to purchase extra battery packs, something that Gurman imagines will be the case. He also points out that the short battery life is most likely a consequence of the Reality Pro sporting an M2 chip plus two 4K displays.
The newsletter doesn't show what the battery pack looks like; however, Twitter user Marcus Kane took Gurman's description to create a render of what the device may look like (opens in new tab). He did take some creative liberties as his render looks thinner and taller than the MagSafe battery. Kane speculates that "two battery packs will be enough for indefinite use [as] you could charge one as you use the other." 
Pricey tech
Funny enough, Kane's comments speak to the other major problem with Apple's rumored headset: the price tag. Rumors suggest the Reality Pro is predicted to cost around $3,000 USD (Ouch!). With customers potentially needing extra battery packs, you're looking at a really expensive gadget. People already complain about the PSVR 2 being more than a PS5 and that's, like, about a sixth of what Apple's headset is reported to cost.
The company is set to hold WWDC 2023 from June 5 to 9. Hopefully, we'll learn more about the VR headset then, but don't hold your breath. Another notable Apple analyst, Ming-Chi Kuo, claimed back in late March some production delays "have created 'uncertainty' around the device" even making an appearance at the big event.  
Source: www.techradar.com