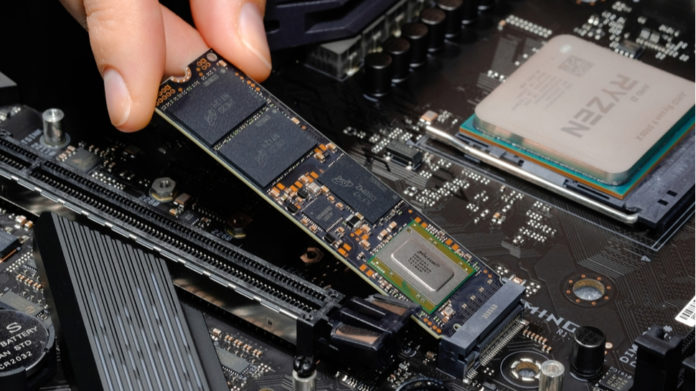 Amazon is selling a 2TB Silicon Power NVMe SSD (SP002TBP34A60M28) for just under $74.99 (opens in new tab), a price that includes free shipping in the US and the option for up to three year data recovery plan for a mere $14.99 extra (worth taking it in case something goes wrong). This is the cheapest 2TB NVMe SSD right now on the market, joint with the Teamgroup MP33 (opens in new tab) (TM8FP6002T0C101).
(Note: the price of this SSD is in US Dollars but Amazon ships internationally and you should be able to purchase it either for the same price or for a small premium depending on where you live)  
It uses the older PCIe 3.0 protocol (we're on PCIe 5.0) which is why this SSD would be ideal either as a secondary drive (great if your laptop has a spare secondary port) or as a portable SSD (when paired with an appropriate external enclosure). It has a modest performance – due to the lack of DRAM – which is more than adequate when dealing with small files. Silicon Power's SSD is both faster and has a higher warranty than Teamgroup's: 2.3GBps/1.6GBps/1200 vs 1.8GBps/1.5GBps/1000 (read/write/TBW).
Our peers at Tomshardware reviewed a smaller model back in January 2020 (when the 1TB version cost, ahem, $95) and loved its black PCB as well as its efficiency but flagged its slow direct-to-TLC write speed. They still gave it a solid four star (out of five). Check out their review of the Silicon Power P34A60. Note that it uses TLC NAND chips which means that it doesn't suffer from disadvantages associated with QLC.
If you're looking for something speedier?
Solidigm is clearing out old Intel SSD with the 670p (opens in new tab) selling for $75.99, just a dollar more than its Silicon Power rival. It is much faster (3.5GBps/2.7GBps on read/write); however because it uses QLC, its endurance is lower at just 740TBW, almost 40% less than Silicon Power's. Just bear in mind though that when it launched in February 2021, just over two years ago, it retailed for a staggering $330.
The 670p is one of the fastest PCIe 3.0 drives around so you have to move to PCIe 4.0 SSDs to get even faster models. The Fanxiang S660, currently available at Amazon for $79.19 (opens in new tab) with a 10% discount voucher, is the fastest cheap SSD we could find, thanks in part to its SLC cache. It claims to deliver read/write speeds of 4.8GBps/4.2GBps with a 5-year/1400 TBW warranty. We like the act that it comes with a bundled heatsink (great for PS5 SSD upgrades) but others will balk at the lack of reviews and brand pedigree from this Chinese company.
Want to buy something even faster? 
At just under $98 (opens in new tab) (down from $111.99 after a 10% discount coupon), the S770 (the faster sibling of the aforementioned S660) is the fastest SSD under $100. We haven't found an independent review of the S770 (or indeed any Fanxiang SSD) but the numbers that this SSD brings to the table are ludicrously good – at least on paper: its 7.3GBps/6.8GBps read/write speeds with 1400 TBW make it almost as good as the Samsung 990 Pro. It comes with 2GB DRAM and uses 128-layer YMTC NAND and like the S660, has a heatsink. 
Source: www.techradar.com