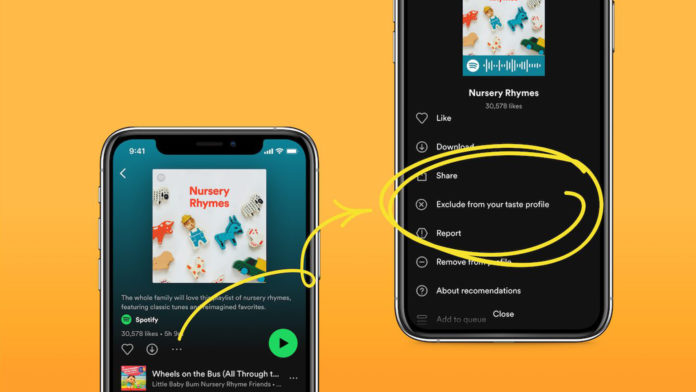 Spotify is rolling out a new curation feature that will lessen the impact other playlists have on your recommendations.
It's called Exclude from your Taste Profile, and according to the announcement (opens in new tab), the aim is to make sure your own playlists aren't flooded with "songs and artists that don't fit with [your] listening habits" or feel misplaced. For example, users can prevent their kids' music from appearing on their heavy metal/trap Blend playlists if they have a family plan "or white noise dominating [their] Discover Weekly." Doing so will tell Spotify which playlist should have its influence diminished; ultimately resulting in a more personalized experience for you.
Ground rules
Other reports of the feature (opens in new tab) reveal additional details not present in the initial announcement; all of which we were able to confirm thanks to a Spotify representative. Changes from Exclude from your Taste Profile are applied "retroactively" as it will prevent "past and future listening" of a playlist from affecting your own music. This means that even if you willingly listen to music from a playlist you don't like, your recommendations won't be influenced. But what will affect your Taste Profile are liked songs.
Spotify will take liked songs from excluded playlists "into consideration for future recommendations" for a person's Discover Weekly or Blend collection. So be mindful of what you or other people in your family plan like on the platform otherwise those tracks will bleed over. Additionally, Exclude from your Taste Profile only applies to playlists – you cannot block individual albums or songs.
Availability
Exclude from your Taste Profile will be coming out to Spotify on Android, iOS, the desktop app, and the web browser version starting today. Be sure to keep an eye out for the update when it arrives on your device. To enable the feature, select the three dots at the top of a playlist, and in that menu, Exclude from your Taste Profile will appear. And if you ever change your mind, perform the same steps again to disable the feature.
2023's shaping up to be an interesting year for Spotify as the update comes in the midst of a particularly quiet time for the platform. Several weeks ago the company announced it laid off about 600 employees similar to other big tech firms. And around that time, rumors began circulating that monthly membership costs will go from $9.99 to $10.99. Nothing's confirmed of course, but given similar price hikes elsewhere, this worst-case scenario is sadly likely. 
Speaking of which, be sure to check out TechRadar's list of the best music streaming services if you're thinking of ditching Spotify. 
Source: www.techradar.com