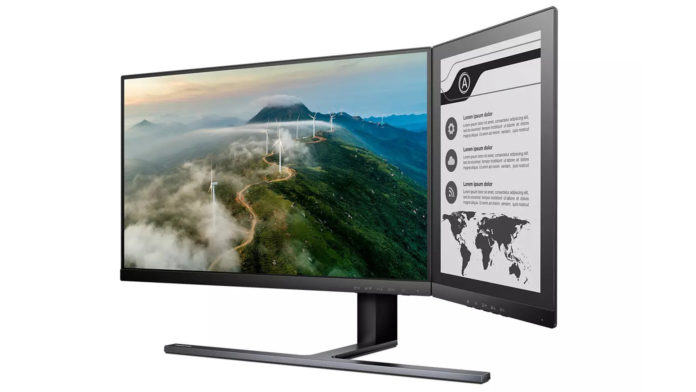 You can't blame a company for wanting to innovate in order to stand out from the crowd. Such is the case with Philips as it recently revealed its Dual Screen Display, a monitor consisting of a LCD screen with an ePaper screen right next to it.
It's certainly a unique-looking design that reminds us of the ThinkBook Plus Twist. According to the official specs sheet (opens in new tab), the LCD screen measures 23.8 inches (60.5 cm) diagonally and displays at a resolution of 2,560 x 1440 pixels (or Quad HD) with a refresh rate of 75 Hz. The ePaper screen utilizes E-Ink tech across its 13.3 inch (33.8 cm) display and has a resolution of 1,200 x 1,600 pixels. As you can see from these numbers, this isn't a super powerful monitor. You're not going to get 4K resolution, but that's fine because the Dual Screen Display doesn't strive to be a high-end device. 
Rather, it's a flexible work monitor compatible with Windows and MacOS machines alike that makes a concerted effort to protect the eyes of users. 
ePaper screen features
Philips states the reason why it included the ePaper display is to help reduce eye strain. Staring at a computer for an extended period of time can cause eye strain and even headaches. It is recommended people take frequent breaks, but that can be tough when you have a lot of work to do. The ePaper screen can help as it's meant to be used for reading long documents or as a place to host basic information. To read said documents, users will need to drag and drop files from the bigger display to the smaller one via Philips' proprietary SmartRemote software.
Other notable features (opens in new tab) include anti-glare with no blue light for better eye protection and its own "built-in front light for comfortable viewing". Users will also be able to turn the ePaper screen inwards up to 45 degrees so they can have a good viewing angle. Be aware the ePaper screen does come with the usual shortcomings of an eReader like slow performance and grayscale text, so there's no color anywhere.
Availability
The Dual Screen Display is only available in Asian countries like China (opens in new tab) at the time of this writing. The product page and several pieces of marketing material are in English, which leads us to believe there could be a Western release someday in the future. The price point is unknown too, though a report from Gizmodo (opens in new tab) claims you can buy one in China for $850. You can also import it for a whopping $1,600 on some third-party websites (opens in new tab). Lets hope the official Western release isn't so expensive.
We reached out to Philips for more information on Dual Screen Display and whether or not it will come to the US or Europe. This story will be updated at a later time.
While on the topic of ePaper devices, check out TechRadar's list of the best eReaders for 2023, which covers high-end to more budget friendly readers. 
Source: www.techradar.com