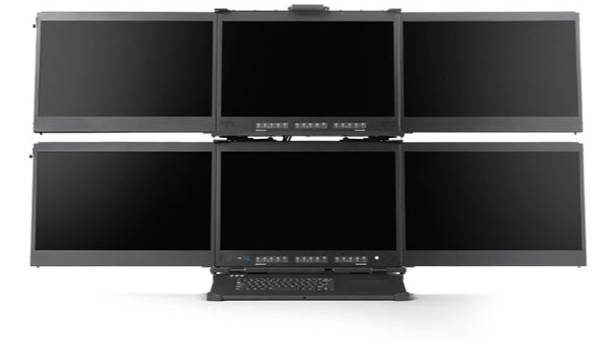 Almost three years after the launch of its a-X2P Rome-based portable mobile workstation, MediaWorkstation has a refreshed model, arguably the most powerful integrated transportable computer in the world. 
It is not a laptop or a mobile workstation in the true sense; it is closer in its design to an all-in-one PC, similar to the luggables of yesteryear as it doesn't have any internal battery; you would probably only get 10 minutes usage at most with one of our best portable power stations.
Ideal for what the boutique PC vendor calls "highly multi-threaded applications in the field", the new model has been upgraded to support AMD's EPYC Genoa based on Zen 4. That means two EPYC 9654 CPUs, each with 96 cores, up to 12 x 256GB memory modules (totaling 3TB of DDR5 memory).
You can plug up to two full height, full size GPUs (or accelerators), one M.2 NVMe boot SSD and five storage drives. All this is cooled by half-a-dozen fans and a power supply unit of unknown capacity (likely to be closer to 2Kw). The motherboard used is likely to be the recently-launched Gigabyte MZ73, a rare e-ATX dual-socket SP5 model. 
There's plenty of ports, but no Thunderbolt 3 or 4 connections, which is a surprising omission given the wide variety of use cases that would make good use of that. In the absence of any wireless connectivity options, a pair of 10GbE connectors will ensure that this mobile studio can connect to the outside world.
Pictures show five 5.25-inch drive bays and a slot-in optical drive, seven slots for PCIe devices and legacy ports such as DVI and PS2.
The a-X2P can also be used with six 24-inch monitors (up to 4K and 1000 nits brightness), a configuration that will push the weight of the mobile workstation to 55 pounds. Each workstation comes with a touchpad and heavy duty mechanical keyboard which folds up onto the display for transport as well as a thick, sewn vinyl wheeled carrying case.
We've reached out to MediaWorkstation to find out whether the a-2XP actually supports 6TB as it is mentioned in the tech specs that it is compatible with 256GB 3DS RDIMM DDR5 Modules.
Expect to pay at more than $200,000 for a top-end, fully kitted mobile workstation that will rival any desktop bound workstation PC or video editing PC. You cannot configure any products online and you will need to go through a form or do it over the phone – which is understandable as such a niche player will want to weed out time wasters and focus on serious customers instead.
The company also sells portable Xeon-based workstation PCs, both in single and dual socket variants (i-X1P, i-X2P), and single-core AMD EPYC-based and Threadripper Pro ones (a-X2P, a-XP).
---
Source: www.techradar.com