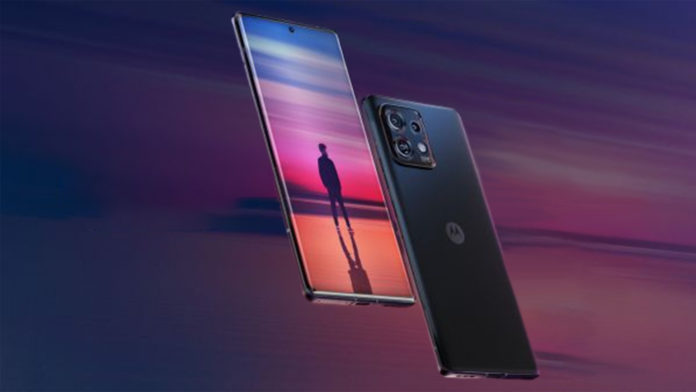 Motorola's latest flagship phone, the Edge 40 Pro, will soon hit the shores of North America where it's being rebranded as the 2023 version of the Edge Plus. 
If you compare the two devices, they're almost the exact same phone with only a few differences. That's either a good or a bad thing, depending on who you ask. On one hand, you have a decent mobile device, but on the other hand, it's literally more of the same. 
Either way, you can at least expect a good performance. The Edge Plus (2023) (opens in new tab) comes with a "virtually borderless [curved] 6.7-inch pOLED (polymer Organic Light Emitting Diode) display", meaning it'll have very small bezels for an immersive experience. The screen's resolution isn't officially stated; however, considering its similarly to the Edge 40 Pro, there's a good chance the new Edge Plus will output at Full HD Plus (2400 x 1080 pixels). It's also worth mentioning the model supports HDR10 Plus with a refresh rate of 165Hz much like its older counterpart.
Under the hood, it's the exact same story. Powering this new Edge Plus is the Snapdragon 8 Gen 2 Mobile Platform for fast performance. The model's "triple high-res camera system" consists of a 50 MP main lens with OIS (optical image stabilization) for "shake-free photos", a 50 MP ultra wide lens, and a 12 MP telephoto lens. On the front is a 60MP selfie camera which comes with the Snapdragon Cognitive Image Signal Processor "for greater color accuracy."
Other notable features include Night Vision for taking video in "low-light environments", Horizon Lock Stabilization to keep the camera rock steady while playing extreme sports like skiing, and Auto Focus Tracking to keep subjects "crystal-clear and in focus".
Availability
Besides the name, the other major difference with the Edge Plus 2023 is the newfound 5100mAh battery which can provide a charge that lasts two whole days, at least according to Motorola. The Edge 40 Pro, meanwhile, has a 4,600mAh battery allowing it to last a solid day.
If you are interested in the Edge Plus (2023) and you live in the United States, the phone goes on sale on May 25 for $799.99 (pre-orders open May 19). It'll be "available universally unlocked" at Best Buy, Amazon, and Motorola's online store. None of the major carriers will sell the smartphone, unfortunately. If you want that option, you'll have to opt for buying from lesser known carriers; namely Boost Infinite and Boost Mobile. In a few weeks time, both Spectrum Mobile and Consumer Cellular will begin selling the device as well. For the Canadians out there, the Edge Plus (2023) will be available through Motorola's website on May 25 for a hefty CA$1299.99 (pre-orders also open on May 19).
The Edge Plus 2023 certainly is a decent phone. But considering it's mostly just the Edge 40 Pro living under a new identity, some may be disappointed with Motorola's latest offering. If you want something potentially better, check out TechRadar's list of the best Android phones for 2023.
Source: www.techradar.com