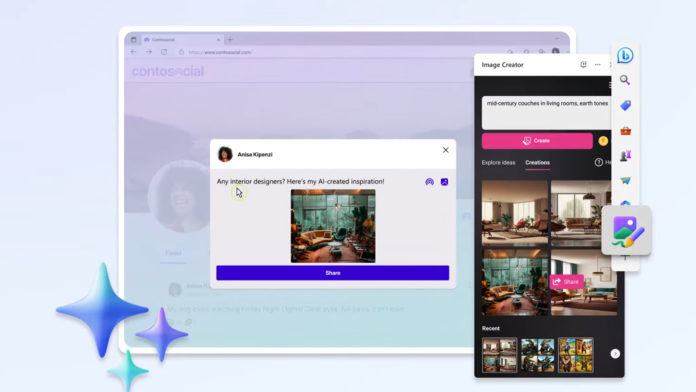 Microsoft isn't slowing down when it comes to adding AI-powered tools to its various products: the company has announced that image creator Dall-E is now available for everyone to use via the sidebar in the Microsoft Edge browser.
"This feature will help you create images that don't yet exist, powered by the very latest Dall-E models from our partners at OpenAI, right from the Microsoft Edge sidebar," writes  Microsoft's Roger Capriotti in a blog post (opens in new tab).
"If you've ever found yourself in need of a very specific visual for a social post or even a PowerPoint, Image Creator can help you find exactly what you need. Edge is now the first and only browser with an integrated AI image generator."
Say what you want to see
For the uninitiated, Dall-E is a little bit like ChatGPT, but for pictures. Enter a prompt for an image – along the lines of "cosy cabin in the woods with sunlight peeking through the trees" for example – and you'll get a few different results generated for you.
Dall-E has been available on the for some time on the web, but it's now integrated right into Edge. It's also available through Bing Chat if you want to take that route, though Bing Chat works best in Edge, so you really need to be using Microsoft's browser anyway.
 The new and current AI features require a Microsoft account to use, and there doesn't appear to be a waiting list any longer. Make sure you're running the most recent version of Microsoft Edge, and the image creator tool should appear.
---
Analysis: generate your own AI art with Bing
Assuming you are running the latest version of Microsoft – click the three dots (top right), then Help and feedback and About Microsoft Edge to make sure – you should see the Image Creator button in the sidebar on the right. It looks like a little painting with a paintbrush in front of it.
If you don't see the icon, click the plus button at the bottom of the sidebar to add it to the panel. You can then select it to launch the Image Creator alongside whatever you're looking at on the web: type out your prompt at the top, then click on Create, and after a few minutes you'll get four results.
Click on any of the previews for a closer look, and to find the share and download options. If you're struggling for inspiration, switch to the Explore ideas tab and see a few examples of what Dall-E can do, together with the text prompts that were used to generate the artwork. You can also click Surprise Me to get a random prompt.
The service doesn't cost anything to use but you only get a certain number of "boosts" per month – these make the AI generation process run significantly faster, and if you run out you can top them up through the Microsoft Rewards system. Past images you've previously created are saved at the bottom of the panel.
Source: www.techradar.com