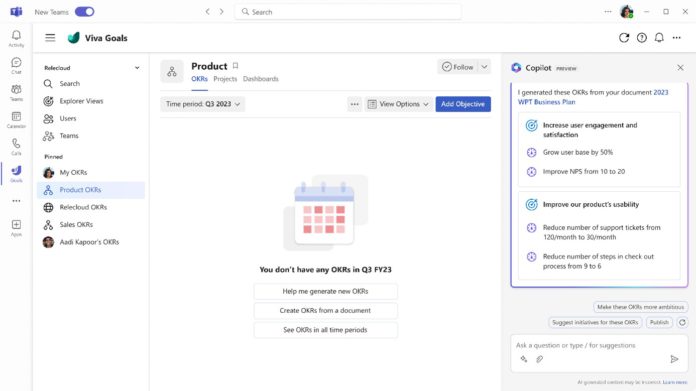 Following last month's reveal of Microsoft 365 Copilot, a prompt-powered artificially intelligent (AI) productivity tool powered by OpenAI's ChatGPT technology, Microsoft has announced that it'll also be adding the tech to its Viva customer experience tool.
In a blog post (opens in new tab), Microsoft suggests that the addition of AI to Viva will "prioritize both productivity and employee engagement". Copilot will be coming to all aspects of Microsoft Viva, from Goals, to Engage, Topics and Answers.
The tech giant also unveiled Viva Glint, an employee feedback platform, which will also see Copilot integration. AI, it suggested, will allow companies to sift effectively through employee comments and identify key areas for improvement simply by using "natural language".
Copilot and employee engagement
It's clear that Copilot's main attraction is to save employees time by completing menial tasks with ease. 
In the same way as other Microsoft 365 apps with Copilot integration, Viva will be able to produce draft content, such as recommendations for business objectives and identifying obstacles, based on human prompts or prior documents. 
But Microsoft also believes that employees will benefit from "upleveled communication", essentially, feeling connected to their bosses. In its latest Work Trend Index (opens in new tab), published in April 2023, it claimed to have found a correlation between employee engagement and a company's financial performance.
To this end, Copilot in Viva Engage will allow employers to have posts and responses written for them, and let GPT-4 decide how to personalize messages in regards to tone, length, and sentiment.
"In today's fast-paced business world, employee productivity is seen as key to driving performance—and that's certainly true. But it's important to remember that productivity alone cannot lead to sustained success," Kirk Koenigsbauer, Corporate Vice President for Microsoft 365 said in the company blog.
"With Copilot, Microsoft Viva takes advantage of next-generation AI to accelerate this new performance equation, where engagement and productivity lead to better business outcomes and success."
Now, if I cared a jot about feeling "connected to" and inspired by my bosses, I'd probably be a bit skeptical to learn that their heartfelt, warm post about this quarter's results (or whatever) were actually AI-generated. It'd show that a corporate environment built on positivity was completely synthetic. But what do I know?
Source: www.techradar.com