Good sound requires space, or at least I thought it did. Then LG Display Automotive gave me a preview at CES 2023 of a new kind of audio actuator that's razor-thin, and can turn almost anything into a relatively robust speaker.
The Sound Solution with Thin Actuator looks more like something you rip off a notepad than a device that can generate sound. A thin, copper cable snaking off one end, though, is a giveaway.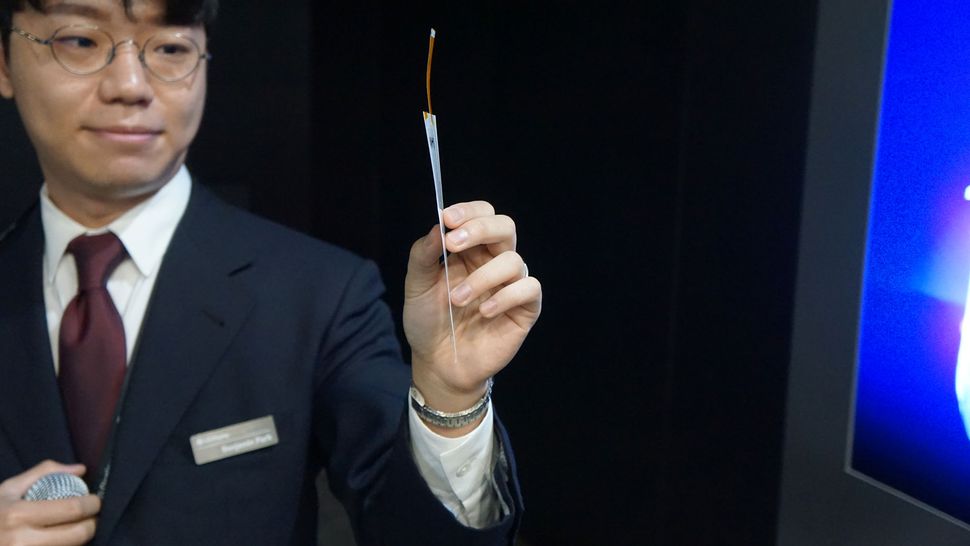 Measuring just 12cm x 6cm x 0.3mm thin (and weighing 12 grams), the actuator is designed to go behind screens or really be embedded almost anywhere.
How does something so thin generate sound? It starts with vibration. Think of it like the voice coil at the center of a traditional speaker. Instead of a thin membrane cone as the diaphragm, the thin actuator uses whatever it's embedded in as its diagram. It vibrates at various frequencies, and the material around it vibrates like a diaphragm, serving as an amplifier.
There are obvious benefits to this approach. Typical 4K TV speakers suffer because they use tiny voice coils and diaphragm cones that struggle to produce big sound. The thin actuator could use the screen's entire display to amplify the sound. The actuators could also just as easily be placed in a car's headrest, delivering sound directly to the back of your head and ears.
This is how LG explained the technology to me, but I wasn't convinced until I heard it for myself.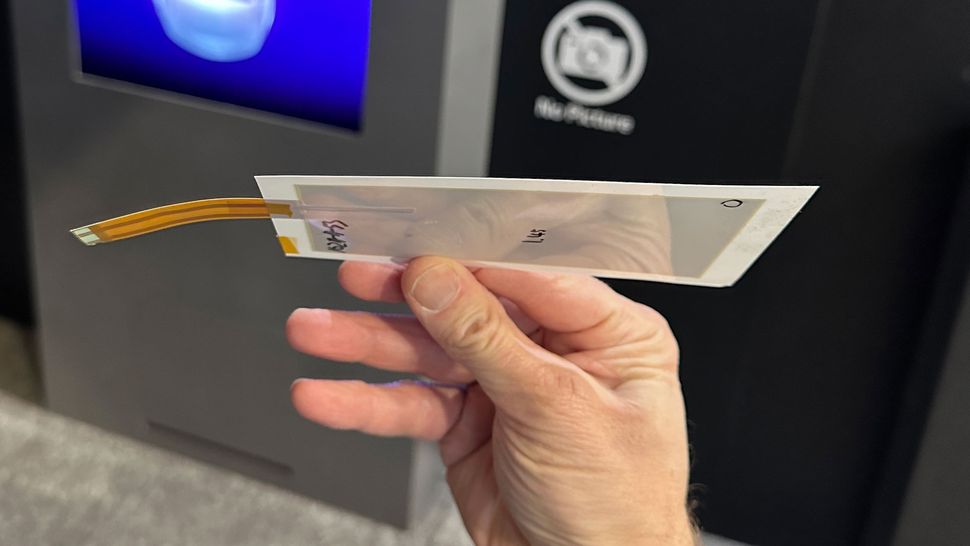 LG representatives led me to a specially equipped test vehicle (I can't tell you which make or model). Inside the cabin, LG Display Automotive had hidden 12 thin actuators and three standard subwoofers for 12.3, 3D Dolby sound. The only indication that the actuators were there were little green stickers dotted through the interior to indicate their locations.
I sat in the driver's seat, closed the door, and, from the outside, the LG Display representative turned on the music. The sound was all around me, coming from the doors, the frame around it, the dashboard, and the center panel. I could touch the fabric and feel vibrations. Granted, the substantial bass was delivered by old-school woofers, but all the highs and mid-range sounds from the actuators were bright, clear, and quite rich.
Don't expect to see (or hear) these paper-thin actuators in 2023 cars. Unlike its partner company LG Electronics, LG Display makes technology for other companies (including parent LG). LG Display Automotive representatives told me they're already in talks with car manufacturers about how and when to bring this audio technology to their cars.
It's also likely that the thin actuators could end up behind future 4K and 8K TVs, and some of the thin and flexible screens LG Display is developing for future cars.
If all goes well, we could experience ultra-thin actuator sound in the near future.
Check out our CES 2023 hub for all the latest news from the show as it happens. We're covering everything from 8K TVs and foldable displays to new phones, laptops, and smart home gadgets, so stick with us for the big stories.
Source: www.techradar.com