Smart TV interfaces provide a necessary portal to streaming, smart home control, cloud-based gaming, and multiple other apps and services, but they are typically cluttered with unwanted content recommendations, free ad-supported TV offerings, and, now more often than not, in-your-face advertisements.
Google TV, which powers Google's Chromecast with Google TV streaming stick and is also used as the smart interface on the best 4K TVs from the likes of Sony, TCL, Hisense, and Philips, is one of the more prominent third-party streaming options for TV makers. But it has also been faulted for screen clutter, and more recently for leaning heavily into ads. The company does occasionally tweak its interface to make it more user-friendly, however, with the latest improvements coming to Google TV users this week.
Citing research that average households now subscribe to more than five different apps for entertainment, Google TV has launched four new content pages to help viewers find programs they want to watch without having to leap from app to app.
The Movies page lets viewers browse selections by genre, title, or topic and also shows new and trending releases. It provides personalized recommendations, something I've found that Google TV does with a higher level of accuracy than other smart TV platforms.
Shows presents new releases from services you subscribe to, along with popular and trending ones you may want to check out. And when you finish watching an episode, Google TV will suggest other ones that Google thinks you will enjoy.
The new Español page offers a central location to check out Spanish-language programs, everything from movies to telenovelas. You can access Spanish-language apps here as well, and find a collection of Spanish dubbed and subtitled movies and shows.
Family unsurprisingly gathers a range of movies with PG or lower ratings on one page so families can easily access wholesome entertainment that both kids and parents can watch together.
The new pages, which will be available to Google TV users in the US, are located below the apps row on the For You tab. Google TV is also getting navigational improvements, with a profile switcher moving to the top left of the screen so multiple users in the same household can easily access personalized settings, and a Search button moving to the top right. Those specific changes are being rolled out globally.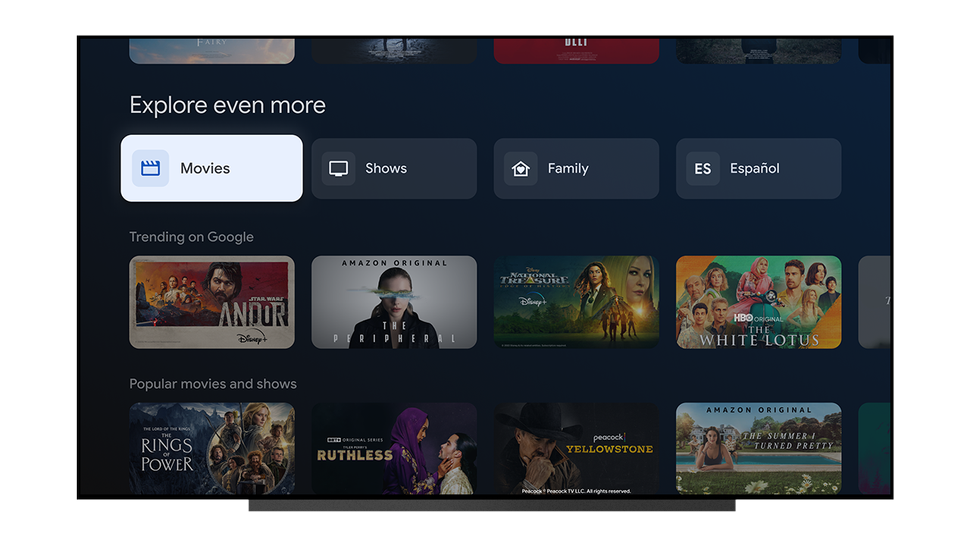 Analysis: Smart TV clutter is a problem, and Google's new Pages could be a solution
As a TV reviewer, I've come to accept that Smart TV interfaces are generally cluttered and that finding something specific I want to watch is going to require work. An increase in advertisements plastered on the main screen has only made the situation worse, and so have Free ad-supported TV portals, something basically all TV brands now carry, that push out notifications enticing me to check out shows I have absolutely no interest in watching.
Free ad-supported TV portals and recommendation engines can occupy a fair amount of the smart screen interface, and while there is some benefit for viewers simply looking for anything to watch without paying for a streaming service, not everyone fits in that category.
By offering specific page links within its smart TV interface, Google TV is making it easier for viewers to more quickly find what TV shows and movies they are looking for, and even better yet, let them limit listings to some degree to specific services they already subscribe to. That's a definite step in the right direction when it comes to reducing smart TV screen clutter.
I like Google TV – it has good personalized recommendations and its ability to link up with Google Photos to display slideshows from that service is something I can appreciate. But Google TV also lacks the clean, elegant interface you get with an Apple TV 4K, not to mention the Roku one found in TVs like TCL's 6-Series models. 
Adding specific pages for viewers to discover movies, TV shows, and more, especially from services they already subscribe to, is a definite improvement, and it's one that will make Google TV a more competitive and compelling option in the smart TV world.
Source: www.techradar.com