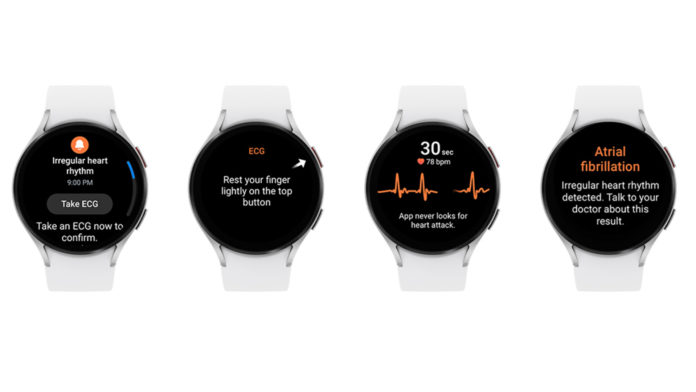 The US Food and Drug Administration (FDA) just gave Samsung the green light on its Irregular Heart Rhythm Notification feature (IHRN) for the Galaxy Watch series.
Recent models, like the Galaxy Watch5, come with heart monitoring tools like on-demand ECG recording (opens in new tab) and HR Alert. What's unique about IHRN is it specifically looks for signs of atrial fibrillation, or AFib, by utilizing the device's ECG (electrocardiogram) function and BioActive Sensor. AFib occurs when a person suddenly has a rapid, irregular heartbeat. Samsung claims (opens in new tab) the condition "is widely considered a warning sign for major cardiovascular issues that can increase the risk of stroke". Some cases can even be "asymptomatic", leaving people totally unaware of what's going on with their bodies.
Hon Pal, Vice President and Head of the Digital Health Team at Samsung said in a release that the goal of IHRN is to provide users with "proactive safety solutions" and offer a "more holistic understanding of their cardiovascular" health.
How it works
The way it'll work, according to the announcement post, is you first must activate IHRN through the Health Monitor app (opens in new tab). Once on, the BioActive Sensor will check for "irregular heart rhythms in the background". If the sensor detects a certain number of irregular heartbeats consecutively, the Galaxy Watch will warn you of "potential AFib activity". The device will then tell you to take an ECG reading "for a more accurate measurement."
Samsung states IHRN will not alert you to "every episode of irregular" heartbeats suggesting AFib. Additionally, the feature won't detect "other known arrhythmias (opens in new tab)" nor it is meant to be used by people under the age of 22.
IHRN will roll out to devices sporting the One UI 5 Watch update, which launches later this year. It'll arrive first on "upcoming Galaxy Watch" models, presumably the anticipated Galaxy Watch6, before moving on to "previous editions." Availability of the feature may vary depending on the region and what carrier you have. Given that the FDA is involved, it's probably safe to say Galaxy Watch owners in the United States will get IHRN.
We asked Samsung if it has plans to expand the new alert system to other regions around the world. We also wanted to know why IHRN won't notify users of every case of arrhythmia suggesting AFib. This story will be updated at a later time.
Playing catch-up
It is good to see the Galaxy Watch finally catching up to some of the competition. Apple, for example, added its own FDA-approved AFib tool to the Apple Watch 4 all the way back in 2018 where it has been shown to be 98 percent accurate at detecting the condition. More recently, Garmin added its own version of the tech to the Venu 2 Plus.
Needless to say, you can't play catch-up forever. Samsung has trailed behind its rivals and it's unknown how the tech giant plans to overtake them, but there are some tantalizing possibilities.
A report from February claims Apple is currently working on a blood glucose monitoring tool for an upcoming version of its wearable. However, development is still in its early stages, and may take years for anything to come to fruition on the Apple Watch. We're not saying this is Samsung's next path for the Galaxy Watch, but we're also not saying it's not.
Be sure to check out TechRadar's list of the best heart rate monitors for 2023 if you're looking to get pinpoint accurate fitness data for yourself.
Source: www.techradar.com