Canada's PSB Speakers is a company best known for making loudspeakers, but it's also been designing and manufacturing headphones for the past 10 years. The latest additions to its portable audio lineup are the M4U TWM true wireless earbuds and M4U 9 wireless ANC headphones, both of which feature the company's proprietary RoomFeel processing and Audiodo Personal Sound technology.
We'll cover both those features in a bit and lay out what makes them special, but let's first discuss details of the new models, which offer many of the conveniences we expect of the best wireless earbuds and best wireless headphones.
The M4U TWM true wireless micro planar earphones ($199 / £199 / around AU$300) use "powerful Magneto-Static technology in a Hybrid Planar dual driver design," according to PSB. Separate transducers deliver the high and low frequencies, and aptX Adaptive Bluetooth enables a latency-free wireless connection. Both earbuds feature hard click buttons for playback and volume control and a USB-C charging case allows for a maximum 32 hours of playtime with up to 8 hours out of the case.
PSB's M4U 9 premium wireless active noise-canceling headphones ($499 / £449 / around AU$750) are an over-ear closed-back design that uses new graphene-infused drivers which the company says "improve on damping, stiffness, and efficiency." Like the M4U TWM these have aptX Adaptive Bluetooth for a wireless connection, while 4 digital MEMS microphones deliver noise-free ANC listening and two extra mics enhance voice clarity during phone chats.
The M4U's three-position switch will let listeners easily select between ANC with RoomFeel, Active with RoomFeel, or passive modes, and listening time extends up to 25 hours with the headphones in active mode.
RoomFeel Tuning and Audiodo Personal Sound 
PSB's proprietary RoomFeel tuning, now in its second generation, is designed to eliminate the "in the head" effect many headphones create and instead make it seem like you're listening in an actual room with the best stereo speakers. Part of this process is applying the "energy and warmth" that a typical room adds to the sound response curve, which in turn makes music sound more natural.
Audiodo Personal Sound is a tool that uses algorithms to calibrate sound output independently for the listeners' left and right ears. The process is carried out via a hearing assessment using the PSB Headphones app, which will then create a sound compensation curve customized to the listener's personal hearing abilities.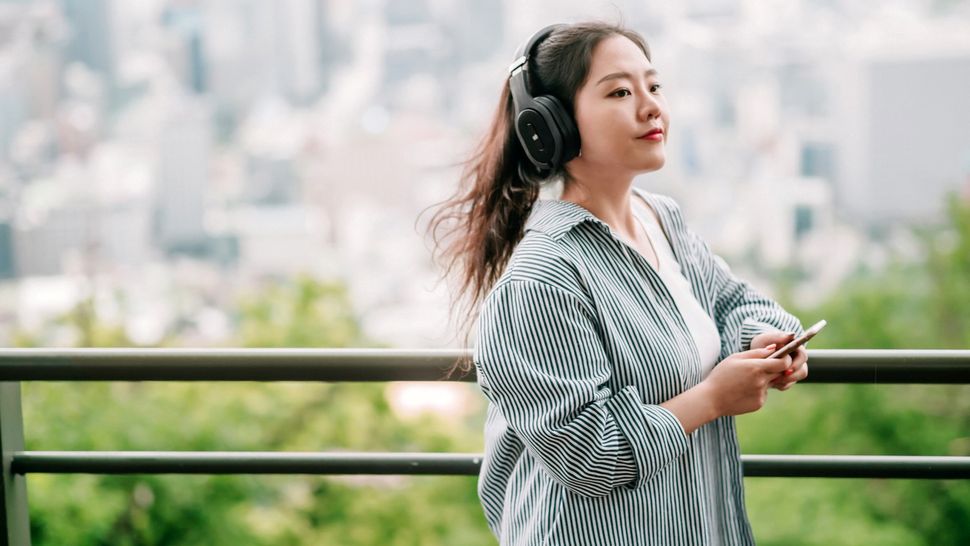 Analysis: Headphones that get you out of your head are good 
PSB's new M4U TWM and M4U 9 are packed with most of the features listeners love about portable headphones. There's active noise canceling tech on the M4U 9 to block out external sound when out and about and aptX Adaptive Bluetooth on both models for a low-latency, better-quality than regular Bluetooth wireless audio connection. And even though they arrive from a specialist audio manufacturer, prices for the new headphones are competitive with similar options like the  AirPods Pro 2 and AirPods Max.
What's most intriguing to me, however, is PSB's proprietary RoomFeel feature.
Many headphones in my experience really do create an "in the head" effect where it seems like the sound is centered in your skull. That's not the way we encounter sound in the real world, of course, and it's not the way we typically experience music at home on speakers, or out at concert venues where there are musicians performing onstage.
Dolby Atmos music (aka Spatial Audio) makes the experience of listening with headphones more engaging because the presentation becomes 3D-like, with sound expanding outward from the zone between your ears and also seeming to emerge from positions in front of and behind your head. But not all music is available in Spatial Audio format, so it's only a partial solution to the "in the head" effect at present.
I tried PSB headphones with the first generation of RoomFeel and immediately appreciated how that tech transformed the soundstage, positioning it forward in space in much the same way as I would listen to music at home on my stereo speaker system. The presentation was more natural than what I had heard from many other headphones, and having the ability to easily switch it on and off to make listening comparisons helped to confirm my preference for RoomFeel.
This next generation of RoomFeel tech doesn't appear to be essentially different from what I'd previously experienced – the main difference is that it's now available for wireless earbuds as well as over-ear headphones. But getting to hear stereo music on the go in a manner similar to listening with speakers at home is a winning proposition and one that should be equally impressive as Spatial Audio on my AirPods Pro 2.
Source: www.techradar.com