For the last few years in the merry month of May, Dyson has launched a new vacuum cleaner. And, right on schedule, there's another one… just not another cordless vacuum cleaner like last year's Dyson Gen5 Detect.
This year, Dyson's got a new robot vacuum cleaner instead which, the company promises, will outperform its competition. Called the Dyson 360 Vis Nav, it's apparently been seven years in the making. So, where did all that time and effort get put in?
As with all things Dyson, it got sucked up (pun very much intended) into making what looks far removed from the usual round robot vacuum cleaners we're used to seeing.
Instead, the Dyson 360 Vis Nav is a D-shaped droid. According to the company, the two sharp angles on the front allow the robovac to get into corners. And if it happens to miss one, Dyson promises it will backtrack.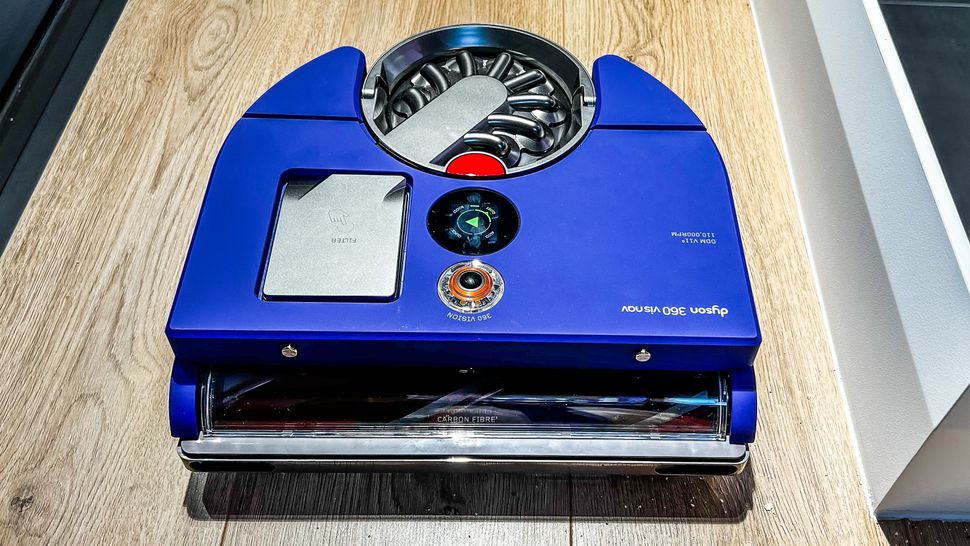 More importantly, Dyson engineers have figured out that a tiny little tube-like protrusion sticking out from one side is all that's needed to make sure the bot picks up dust and debris from the edges of a room too – the lack of edge cleaning has been one of our biggest gripes with most robot vacuum cleaners we've tested. This protrusion is soft enough (like silicone) to not damage walls and skirting boards.
Design-wise, the blue D-shaped bot looks chunky and yet there's a distinct Dyson aesthetic to it, probably because of the recognizable Radial Cyclone tech on the top plate of the robovac. As with the Dyson cordless vacuum cleaners, this separates the larger particles from the smaller and they all get sealed into what Dyson promises to be the most airtight system of any robot vacuum.
Allowing you to get a better idea of what the robovac is sucking up is a piezo sensor that was first introduced to Dyson's cordless handsticks in the V15 Detect. While you won't see a graphical representation of the particles being cleaned on the touchscreen on the top plate, it helps create a dust map of your home which is accessible via the MyDyson smartphone app. 
Helping the 360 Vis Nav navigate around a home is a combination of a fish-eye lens capable of 'seeing' a full 360º and 26 additional sensors. These sensors have different purposes, including obstacle avoidance, dust detection, edge detection and calculating time of flight (ToF) to help with navigation and map creation. There's no lidar here as with some other robot vacuum cleaners.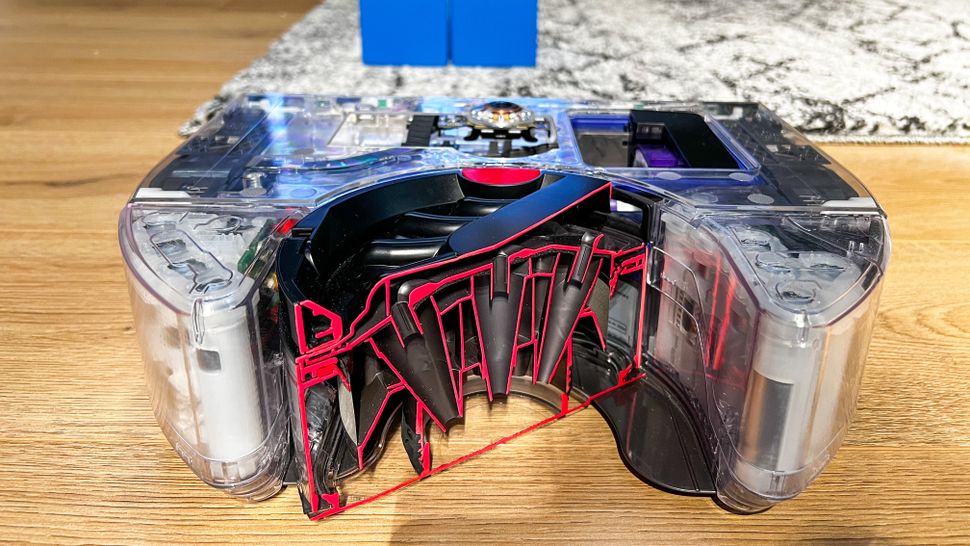 With more power comes… a better clean
Dyson's promise of a superior floor clean comes from the maximum of 65 air watts (AW) of suction power and a redesigned Hyperdymium motor that spins at up to 110,000rpm. 
The Dyson engineers at our demonstration were rather proud of how much power they've managed to give the 360 Vis Nav, and rightly so. This puts Dyson's new robovac almost at the top of the list of most powerful robot vacuum cleaners, but not at the very top. 
Most robovacs offer between 500Pa to 3,000Pa (9.6AW to 57.69AW; 1Pa equates to 52AW) of suction power, with the average being 1,400Pa or 27AW. Taking some of the more popular robot vacuum cleaners on the market as examples, the Ecovacs Deebot T8 AIVI has 28.8 AW of maximum suction and the Deebot T9 gets 57.69AW with a motor spinning at up to 19,000rpm. However, Ecovacs Robotics one-ups Dyson with its Deebot X1 series getting a whopping 96.15AW (or 5,000Pa) of maximum suction. Similarly, the Roborock S8 Pro Ultra boasts up to 6,000Pa or 115AW.
Still, 65AW is powerful and, from what I saw during the launch event's demonstration, it's more than enough to suck up some fine dust in the form of cornflour. The Dyson 360 Vis Nav has dynamic suction, so it will automatically alter the power in Auto mode if it senses more dirt or a different floor surface. And none of the competition has the little tube-like protrusion to suck up dirt lingering in room edges.
Aiding in what promises to be a better clean is the bar brush. Unlike most robot vacuum cleaners, this extends almost edge to edge under the bot, meaning it's got a bigger footprint for a broader, potentially quicker clean. Plus, it combines a few of the Dyson brushes we get with the cordless vacs so it can handle a variety of surfaces. 
There are hard bristles that can tease carpet fibers to get to hair and dirt embedded deep, a soft roller for hard floors and anti-static carbonfiber filaments to make sure dust doesn't stick to the brush or hard floors as it moves along and creates static energy. 
The brush is also quite thick which, Dyson says, ensures hair and fur does not get entangled around it. The bar brush can be easily removed and washed. Just be sure to keep the robovac away from water though. Even the bin is quintessentially Dyson, being a smaller, slightly redesigned version of what's on the cordless vacuums.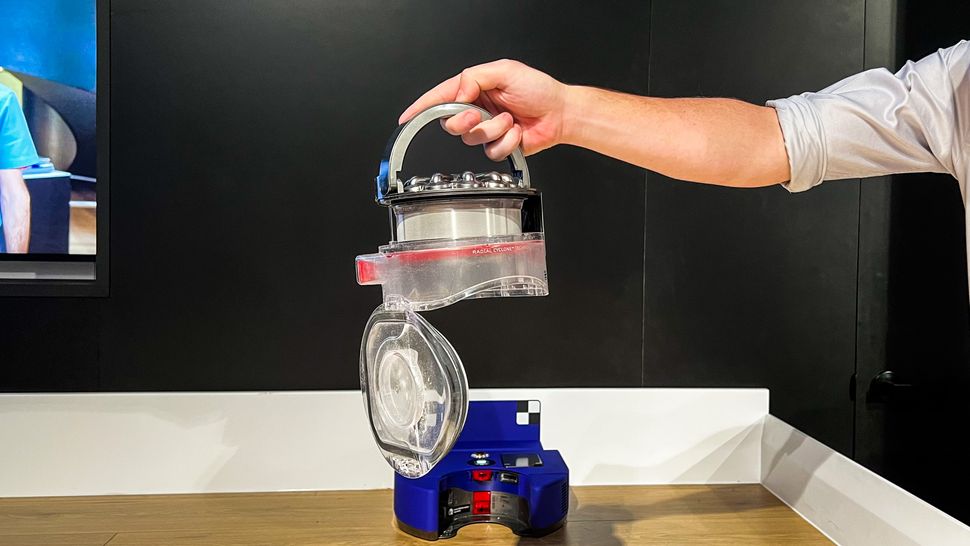 Like the cordless handsticks, the Dyson 360 Vis Nav has four cleaning modes – Auto for optimized and dynamic cleaning, Quick for small spot cleans, Quiet for when you want to watch Netflix without the dialogues drowning out, and Boost for a deeper clean.
There's up to 50 minutes of battery life on a full charge but, Dyson says, you may not get more than 5-8 minutes on Boost. As mentioned earlier, the HEPA filtration system promises to be airtight, and can capture and seal in 99.99% of particles as small as 0.1 micron (the size of a corn starch particle, with tobacco smoke sitting at 0.5 microns and bacteria at 0.3 microns as a comparison). That makes it potentially ideal for people with allergies.
The price of an automated Dyson clean
According to James Dyson, "a robot vacuum cleaner should not be a novelty." The price of the Dyson 360 Vis Nav, however, might just make it so.
It's first launching in Australia with a price tag of AU$2,399 (converting to about $1,599 / £1,285) and will be available to buy directly from the Dyson Store from May 25. 
That's a pretty steep price for a robot vacuum cleaner that doesn't mop or empty its bin automatically and puts it out of reach for several potential customers. The multi-tasking Ecovacs Deebot X1 Omni and Roborock S8 Pro Ultra cost $1,549 / £1,499 / AU$2,499 and $1,599 / AU$2,699 (unavailable in the UK) respectively. That said, Dyson devices don't come cheap.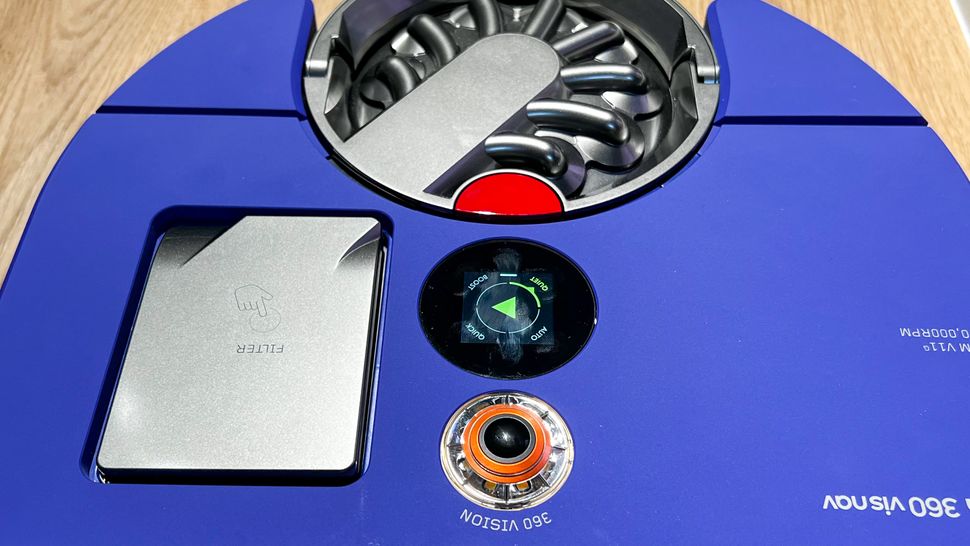 I asked Dyson when the 360 Vis Nav would be available in more markets, particularly the US and the UK, and I wasn't given a timeline, although from indirect hints it does seem it will end up in the wider global market at some point. The Dyson V12 Detect Slim, for example, first launched in Australia alongside the V15 Detect and didn't make it to the US or the UK until much later.
I also wanted to know whether future iterations of the 360 Vis Nav would come with mopping and self-emptying capabilities – mum's the word for the former, while Dyson doesn't believe the self-emptying stations are ideal as they make dust fly and aren't quite airtight. However, I was told that the original 360 Vis Nav will be kept updated with future over-the-air firmware updates as the company comes up with ways to improve the bot well into the far future. In fact, in Australia, there's a team of customer service reps who will also mail you an USB stick with these updates – there's a port on the robovac.
You can watch a short video (above) of how the Dyson 360 Vis Nav works and it looks like it could be one of the best robot vacuums you can get and could even compete with the best vacuums – corded and cordless alike. I'm looking forward to putting it through its paces to see how well it will do in real-world scenarios. Watch this space.
Source: www.techradar.com