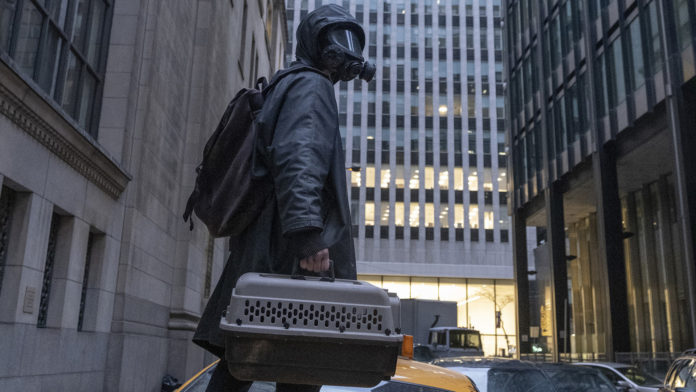 Another month, another slate of canceled TV shows being pulled from their streaming platforms. A number of high-profile series will be leaving both Disney Plus and Hulu on May 26, meaning there's only a few days left to enjoy the condemned programs before they go (thanks to a heads up from Deadline).
There are some surprising choices among the purge, including big-name sequels and adaptations that, if not renewed for more seasons, still seemed notable enough to hang around for a little while longer. But in a streaming landscape where Paramount Plus is in ascendence, and the likes of Netflix and Disney Plus are scrambling to maintain subscriber growth, cancelations seem more cutthroat than ever. We're seeing countless series and specials sent into oblivion so streamers can cut back on costs.
If you have any free time in the coming days to watch some content on Disney Plus or Hulu, here are the four shows worth checking out before they're gone for good. What else are lunch breaks for?
Y: The Last Man
Based on the classic comic book series of the same name, Y: The Last Man was a massively anticipated TV adaptation ahead of its premiere on Hulu. The series takes place in a post-apocalyptic world where all mammals (human and otherwise) with a Y chromosome are widely wiped out, except for one Yorick Brown and his pet monkey.
While the show was canceled after only one season – reportedly due to filming costs during the pandemic – it's well worth a look for its smart adaptations to the source material, even if the show didn't  quite break out in a cinematic landscape already saturated with dystopian futures.
Available to stream on Hulu. 
Willow 
This TV series acts as a sequel to the classic fantasy film Willow, created and produced by George Lucas back in 1998. The show is set 20 years after the events of the first film. It follows six heroes on a quest to save the realm from evil forces once again. 
Warwick Davis reprised his role as the sorcerer Willow Ufgood, alongside The Grand Budapest Hotel's Tony Revolori. The new Willow TV show was only released in 2022, but both the series and The Making of Willow companion special will be leaving the platform from May 26, making this your last chance to check out either.
Available to stream on Disney Plus. 
Marvel's Hero Project
Disney Plus dropping a Marvel TV show? We couldn't believe it either. Technically this isn't an MCU property so much as a Marvel-branded documentary series, looking at 20 young people making a meaningful difference to their communities. 
Covering everything from child abuse prevention and homelessness to glitter-shooting prosthetics and trans teenagers, it's a heartwarming look at what heroism means for everyday people – and slightly more relatable than the universe-threatening events of most Marvel movies.
Available to stream on Disney Plus. 
Dollface 
Starring Kat Dennings (Two Broke Girls, WandaVision), this comedy drama centers on a young woman being dumped by her long-time boyfriend. The show follows her realizations that she's long neglected other meaningful connections in her life – particularly other women – and has to rekindle the friendships she's left behind, all while dealing with her own overactive imagination.
While the critical response to the film was lukewarm, a hit cast including both Dennings and Shay Mitchell (Pretty Little Liars, You) may be enough to entice you to check out this comedy series before it's gone for good.
Available to stream on Hulu. 
Everything else leaving Hulu and Disney Plus
Disney Plus
Big Shot
Turner & Hooch
The Mysterious Benedict Society 
The Mighty Ducks: Game Changer
Diary of a Future President
Just Beyond
The World According to Jeff Goldblum
The Right Stuff
The Real Right Stuff 
Cheaper by the Dozen
The One and Only Ivan 
Stargirl
Hollywood Stargirl
Flora & Ulysses
Artemis Fowl
The Princess 
Encore!
Black Beauty
Clouds
America the Beautiful
Better Nate Than Ever
Weird But True!
Timmy Failure
Be Our Chef
Magic Camp
Earth to Ned
Foodtastic
Stuntman
Disney Fairy Tale Weddings
Wolfgang
It's a Dog's Life with Bill Farmer
The Big Fib
Rogue Trip
More Than Robots
Shop Class
Pick the Litter
Own the Room
Among the Stars
Harmonious Live!
Pentatonix: Around the World for the Holidays
Hulu / National Geographic
Pistol
Little Demon
Maggie
The Hot Zone
The Premise
Love in the Time of Corona
Everything's Trash
Best in Snow
Best in Dough
Darby and the Dead
The Quest
Rosaline
Life Below Zero: Next Generation
National Geographic Investigates: LSD and Psychedelics
9/11: One Day in America
The Armstrong Tapes
Buried Secrets of WWII
Bin Laden's Hard Drive
Croc That Ate Jaws
Trafficked with Mariana van Zeller
Drug Lords: The Next Generation
Extreme Rescues
Most Wanted Sharks
Locked Up Abroad
North Korea: Inside the Mind of a Dictator
To Catch A Smuggler Rome
Ultimate Survival WWII
The Come Up
The Deep End
Everything's Trash
Keep This Between Us
Source: www.techradar.com