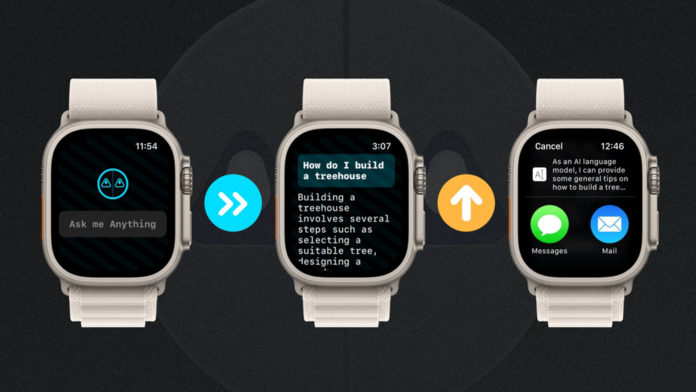 Just a few months after its integration into Bing, ChatGPT has made the leap to iOS as a third-party app exclusively for the Apple Watch.
It's called Petey – AI Assistant (opens in new tab) and it was created by developer Hidde van de Ploeg (listed as Modum B.V. on the App Store). Originally, it was known as watchGPT, but due to trademarking issues with the acronym "GPT", the name had to be changed. Looking at a demo video posted by the developer on Twitter, Petey functions similarly to Siri. You open the app, ask it a question and it answers in just a few seconds via Text to Speech. To continue an inquiry, you swipe down on the watch face, then tap Reply. Unlike Apple's own Siri, Petey as an assistant can provide fairly complex answers like giving steps on how to catch a fish.
One of the problems with voice assistants like Siri is that they are fairly rigid in what they can do. You have to ask those AIs specific questions in a certain manner to get a response. ChatGPT, on the other hand, is more flexible in what it can do, from writing business letters to even drafting Christmas stories. It's hard to say exactly how capable Petey is, but at the very least, it appears you won't have to struggle with it as much.
A work in progress
Petey is a work in progress as new features are constantly being added. Right now you have a handful to work with. For starters, you can share the responses with other people "via text, email, or social media" although the App Store listing doesn't specify which ones.
The app can be set as a complication on the Apple Watch's face for quick access. Support for multiple languages is growing as well, bringing the total to 14.  Petey now supports German, Italian, and Japanese, just to name a few. Also if you prefer, Petey comes with a tiny, on-screen keyboard so you can type in your questions. You're probably better off using your voice.
As for future updates, there are several things in the works. From what is known, van der Ploeg is working on adding a History tool so you can go back to a previous question, making vocal inputs the default setting, and improving the app's overall performance so you can ask it multiple questions.
There are a couple of caveats, however. One: the app isn't free as you'll have to purchase it for $4.99 (about £4, over $7 AUD, and almost €5) on the App Store. To use Petey, you must have an Apple Watch running on watchOS 9 or up. So make sure you update your device if you haven't already. We should mention the software does not collect user data so rest assured, your privacy is safe.
Users with an Android smartwatch will be out of luck, unfortunately. When asked about a potential Android version, van der Ploeg said there won't be one as his "skillset wouldn't allow [for] that".
Source: www.techradar.com