Marshall is a brand synonymous with road-worthy guitar amps, but this new portable Bluetooth speaker seems rugged enough to stand up to a world tour with Slash.
The Middleton certainly looks the part, featuring the company's script logo on a black plastic housing. Made from 55% post-consumer recycled plastic, the casing has a IP67 rating, meaning it offers complete protection from dust as well as being able to stand up to being submerged in 1m water for at least 30 minutes.
The Middleton sits between Marshall's recently released Stockwell 2 and Emberton 2, and boasts a multi-directional quad-speaker set-up to take on the best Bluetooth speakers when it comes to audio power from a compact body.
As with the Marshall Emberton 2, this four-speaker array allows the device to utilize Marshall's bespoke 'True Stereophonic' system, which the company claims creates a more immersive 360-degree sound stage than a standard stereo setup.
There's a hefty maximum output of 87db, which sounds like it would be enough to get Lemmy's approval from beyond the grave, but if that isn't enough, you can use the device's multi-speaker Stack Mode and pair it up with other Middletons for even more power.
Unlike the Emberton 2, there are physical bass and treble controls on the top of the speaker, while EQ can also be adjusted via Marshall's dedicated app for Apple and Android devices.
The Middleton comes with a claimed battery life in excess of 20 hours playtime, with a full charge taking 4.5 hours to bring the juice back up to 100%. Usefully, the battery also acts as a power bank, allowing you to charge your mobile devices on the move.
The Marshall Middleton is available now for £269/€299/$299 direct from marshallheadphones.com (opens in new tab).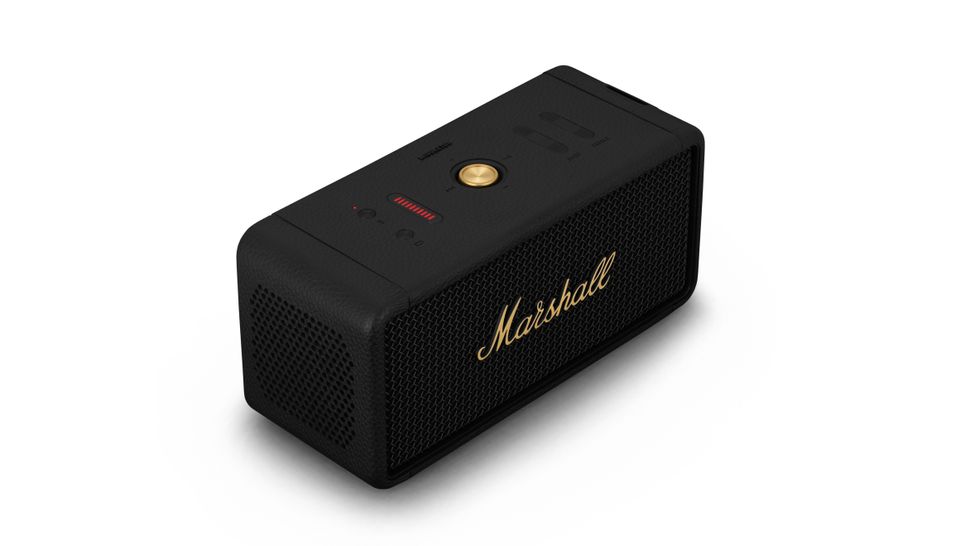 Analysis: Will the Marshall rock hard enough to justify its price?
With its lengthy battery, cool looks and balanced sound, we were impressed with the performance of Marshall's updated Emberton 2 speaker when it arrived late last year, but questioned its elevated price tag.
The Middleton brings bigger output, IP67 waterproofing and some welcome EQ controls, but there's still some notable features missing we'd expect at this price.
Chief of these (for some) is the lack of support for smart assistants, with no built-in means of using the likes of Alexa or Google Assistant, which may make the Middleton a hard sell when lined up against others on our best waterproof speakers list, including the cheaper Sonos Roam.
But audio is the most important thing, and if it sounds right, we'll forgive the lack of tiny rock fairy to talk to.
Source: www.techradar.com