Samsung has filed a strange new patent for a Samsung Galaxy Watch. After coming out with the Samsung I8530 Galaxy Beam, a phone with a built-in projector attached, Samsung is working on a Samsung Galaxy Watch with a smaller built-in multimedia projector.
It might not be top of your wishlist when selecting the best smartwatch (or best cheap smartwatch), but it looks like a cool feature nonetheless. Spotted by GSMArena (opens in new tab), the projector is said to be able to "beam information from the outer side of its housing onto the back side of the user's hand". This could include the time, like a bedroom projector clock, or even "broadcasts and multimedia content".
The feature uses a tiny projector and LEDs, described as being able to adjust their luminescence, so you can tweak the settings as you could with a screen. The diagram suggests projecting the time and your heart rate on the back of the user's hand, but the suggestion of "broadcasts" is intriguing. I imagine watching a tinny projected copy of Avatar: The Way of Water using the back of your hand as a projector canvas is exactly the way James Cameron envisioned viewers getting the most out of the film.
The United States patent was published on February 2nd (opens in new tab), having been filed in August 2022. It's clear the technology has been in the works for a while, so perhaps we'll see a Samsung Galaxy Watch Beam cropping up this year.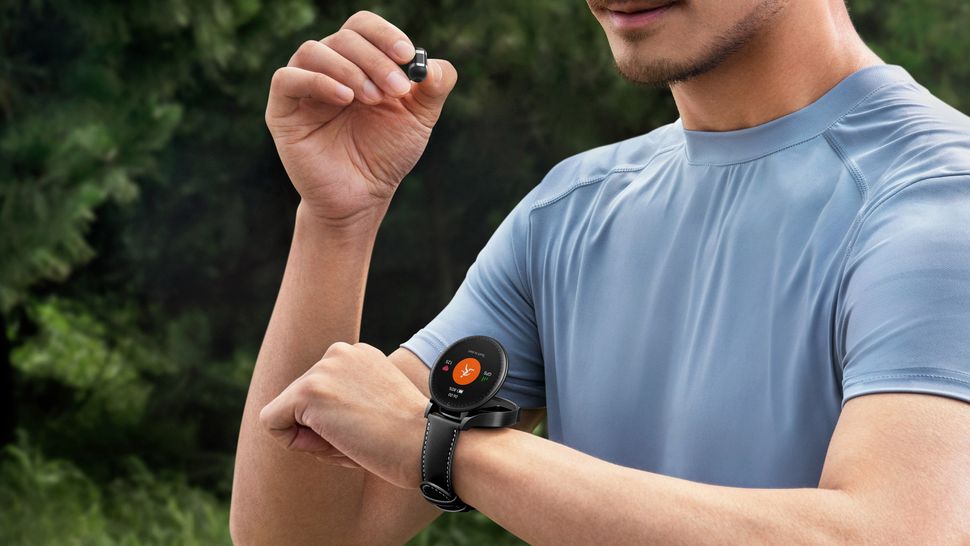 Analysis: Be careful what you wish for
I both love and hate this in equal measure. At the time of writing, it was just a few days ago that I argued for smartwatches to embrace more weird and wonderful gadgets. Off the back of the Huawei Watch D, Huawei Watch Buds and the Garmin Instinct Crossover, I wanted wearable tech to become interesting and physical again, like the future we imagined in the 1990s.
This is an interesting and physical idea. It's not a new app or all-digital product, or an improved version of an existing sensor, but a brand-new concept you could show off to your grandma. It's also a thoroughly goofy idea, and I can't imagine a situation in which I'd ever want to read the time off the back of my hand rather than, oh I don't know, look at my watch using the same arm-raising motion. 
As an everyday tool, it's almost useless, unless you wanted to point your wrist at a wall like Buzz Lightyear during a work presentation. I feel like someone read my previous post and took it to the logical extreme, to show me what an idiot I am. But that person underestimates my ability to be easily amused, and although I wouldn't buy one, I cannot wait to try it out. 
Source: www.techradar.com