OnePlus has announced its mysterious Jupiter-themed OnePlus 11 variant, and it turns out that the teaser image the brand shared a few days ago was a little more literal than we'd initially assumed. The new phone is dubbed the OnePlus 11 Jupiter Rock edition, and it takes its design cues from the eponymous celestial body. 
As for the material used, it's not exactly marble, as some had theorized. Rather, OnePlus says it's a new material that it's developed called '3D microcrystalline rock'. OnePlus has experimented with various materials in the past, including wood grain and sandstone, and this looks like a return to form for a company that's been seen as playing it too safe with recent releases.  
Disappointingly, though, the phone has only been launched in China with an expected expansion to India, and it seems unlikely that it'll be released in Western markets any time soon.
Announcing the new phone on Chinese social-networking side Weibo, OnePlus China head Li Jie posted (machine-translated to English): "It is a material that has never been used in the mobile phone industry. It is a 'no man's land' and requires a lot of time and cost to explore".
"This is a very excellent material. It is derived from the combination of nature and technology. It has a unique texture and a tight texture. When you hold it in your hand, you can feel an unprecedented wonderful feeling. It seems like jade that has been washed by water for thousands of years."
Li added that the material would be resistant to fingerprints, wear, and bacteria. Due to the nature of the materials and processes used, he said the OnePlus 11 Jupiter Rock edition would be unique to each buyer.
Materials matter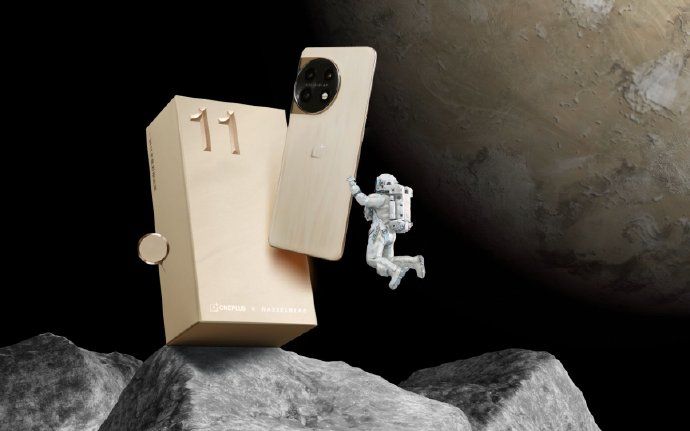 It's always good to see companies break free of the metal and glass sandwich archetype – companies like Oppo have experimented with ceramic on the Oppo Find X5 Pro, while Huawei has used vegan leather, and Motorola actual leather. OnePlus says it's gone to great efforts to develop its new material, including creating entirely new tooling processes. 
"The OnePlus 11 Jupiter Rock Limited edition took a whole year from the start of the project to the mass production," Li Jie wrote in another Weibo post. "We have developed the entire mass production process line, including nine complex processes, and pioneered the 'natural graining process'."
Of course, how much effort a company puts into making a product isn't relevant if the product itself isn't good, but in our OnePlus 11 review we awarded the phone four stars, and this new design looks genuinely interesting. 
It's a shame the company hasn't announced plans to release the phone outside of India or China where it's priced at 4,899 yuan (that's about £580 / $700 / AU$1,050), as it would certainly add a dash of style to the mobile market. 
Source: www.techradar.com