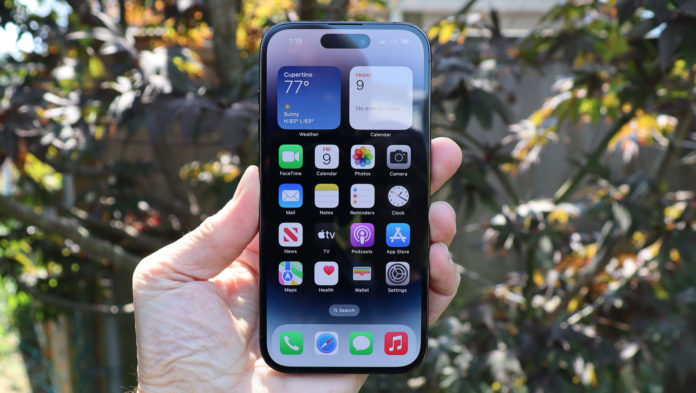 We've previously heard from numerous sources that every model in the iPhone 15 series will have a Dynamic Island instead of a notch, and now we've seen real evidence of that claim. A leaked video supposedly shows the screen glass for all three models in the line, and there's no notch in sight.
The leak was originally posted on Chinese social media, but was spotted by leaker ShrimpApplePro (opens in new tab) (via Apple Insider (opens in new tab)), who reposted the videos on Twitter.
As you can see in the video below, the front panels for three phones have been shown off, specifically the iPhone 15, iPhone 15 Pro, and iPhone 15 Pro Max (or iPhone 15 Ultra, as it might be called).
Goôd morning! Here's is the real life video of the front glass panel of the iPhone 15 series, i was able to confirm its authenticity with my source. It's real! pic.twitter.com/5BkI0OFgz9March 5, 2023
See more
All three of them have a large cut-out in the screen, with a smaller one to the right of it, which in practice will probably spend most of the time looking like one big cut-out, as is the case on the iPhone 14 Pro and iPhone 14 Pro Max.
The bezels also appear to have a slight curve to them. We've previously head rumors that the sides of these phones would curve slightly, so this lines up with that.
Speaking of the bezels, they're noticeably larger on one of the three panels shown than the other two. Presumably, then, that's the standard iPhone 15, while the iPhone 15 Pro and iPhone 15 Pro Max look to have barely-there bezels that are even smaller than those on the current models.
If this is accurate, then even with every iPhone 15 model having a Dynamic Island, the Pro and Pro Max will look slightly more premium from the front.
We'd take this leak with a pinch of salt, of course, but ShrimpApplePro has a reasonable track record, and while they're not the original source of this leak, they claim to have been able to confirm its authenticity.
---
Analysis: The iPhone 15 Pro could be a visual upgrade in a number of ways
It's not just possibly smaller bezels that will help the iPhone 15 Pro and iPhone 15 Pro Max stand out from the standard models, as we've also heard of other visual upgrades these phones might get.
The biggest one is a move to a titanium frame, which is stronger, lighter, and more expensive than the stainless steel used by the iPhone 14 Pro, and it's even more of an upgrade on the aluminum used by the iPhone 14. A leaked image has shown how this might look, complete with a brushed metal finish that isn't present on current models.
Beyond that, the iPhone 15 Pro and Pro Max will probably also have more rear cameras than the iPhone 15 and iPhone 15 Plus, with three rather than two.
So, even before we get to the internal specs, the Pro models will likely be a clear step up from the standard ones, even if all four phones do have a Dynamic Island. If you want one of the best iPhones this year, then, you might have to go Pro.
Source: www.techradar.com