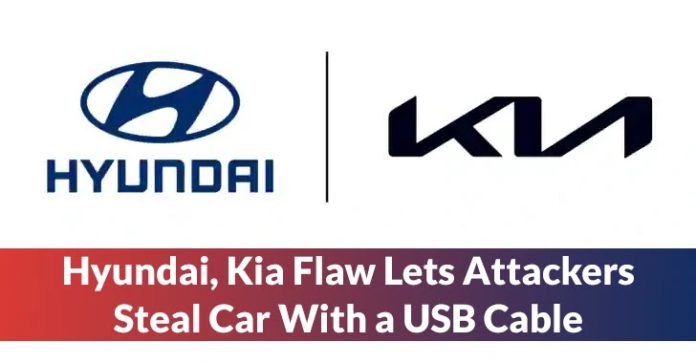 Car manufacturers Kia and Hyundai have recently taken measures to address concerns over vehicle security following the viral popularity of TikTok videos demonstrating how to easily steal their cars. 
In response, the companies are now offering car owners the option to install steering wheel locks and obtain a software upgrade to enhance the security features of their vehicles.
Last year, a trend known as "Kia Boyz" gained popularity on social media, making popular videos of car thieves taking fun rides in Kia vehicles after breaking into the vehicles. 
It has been reported that the video clips showing thieves stealing cars have received over 70 million views on TikTok.
New Anti-theft Upgrade Offered
This trend brought attention to the issue of vehicle theft and the potential vulnerabilities of certain car models. A new technology upgrade will soon be available for almost 4 million vehicles as part of a service campaign, with the rollout set to begin on February 14th. 
The upgrade will first be available for over 1 million model-year vehicles and here they are:-
2017-2020 Elantra
2015-2019 Sonata
2020-2021 Venue
In order to ensure timely delivery of the software upgrade to the remaining vehicles affected, the software upgrade is scheduled to be available until June 2023.
This upgrade will be completely free and Hyundai dealers will perform the free upgrade and the installation is expected to take less than an hour.
After the upgrade process is complete, a window decal will be attached to each vehicle to inform potential thieves that the vehicle is now rigged with an advanced anti-theft system.
This measure is designed to deter thieves from attempting to steal the upgraded vehicles, as they will be aware that the new security measures will make it much more difficult to do so.
Here's what the CEO of Hyundai Motor America, Randy Parker stated:-
"Hyundai is committed to ensuring the quality and integrity of our products through continuous improvement and is pleased to provide affected customers with an additional theft deterrent through this software upgrade."
"We have prioritized the upgrade's availability for owners and lessees of our highest-selling vehicles and those most targeted by thieves in order for dealers to service them first."
Software Upgrade Details
The engine immobilizer is one of the standard safety features installed on all Hyundai vehicles manufactured since November 2021.
However, the upgrade software cannot be installed on some 2011-2022 model-year vehicles that do not have engine immobilizers.
The software upgrade that has been developed for Hyundai and Kia vehicles features standard "turn-key-to-start" ignition systems. So, the upgrade is designed to modify specific vehicle control modules to improve the functionality of the vehicles.
By using the key fob to lock the doors of the vehicle, the factory alarm will be set, and an "ignition kill" feature will be activated. If the vehicle is subjected to the popularized theft mode, then this feature will prevent the vehicle from being started.
In order to deactivate the "ignition kill" feature on the vehicle, customers need to unlock their vehicle with their key fob.
Rollout schedule for the Service Campaign
Here below we have mentioned the complete schedule:-
Phase 1 will start on February 14, 2023, for the following vehicles:
2017-2020 Elantra
2015-2019 Sonata
2020-2021 Venue
Phase 2 will start on June 2023, for the following vehicles:
2018-2022 Accent
2011-2016 Elantra
2021-2022 Elantra
2018-2020 Elantra GT
2011-2014 Genesis Coupe
2018-2022 Kona
2020-2021 Palisade
2013-2018 Santa Fe Sport
2013-2022 Santa Fe
2019 Santa Fe XL
2011-2014 Sonata
2011-2022 Tucson
2012-2017, 2019-2021 Veloster
Network Security Checklist – Download Free E-Book
Source: gbhackers.com