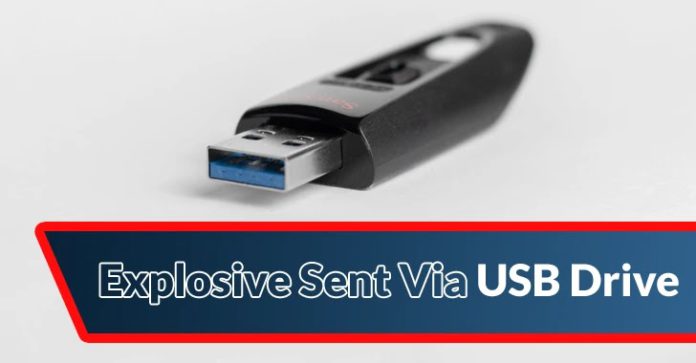 The Ecuadorian free-to-air television network Ecuavisa recently reported that a USB device was detonated inside an organization's newsroom. The explosion occurred due to a USB drive the station mailed to a journalist covering the story.
In the middle of the newsroom, Lenin Artieda, a presenter who worked on the program, was injured when he opened the envelope. It appeared to him that the explosive device was similar to a USB flash drive. In a matter of seconds, it detonated as soon as it was plugged into his computer.
However, after such an explosion, no serious injuries were reported. As a result of hacking attempts, a USB drive containing malware has been sent to recipients in several cases, but this is the first time a USB has been sent in the form of an explosive.
While it has been reported that in Ecuador that someone has created a flash drive that explodes when connected to a computer, security researchers are doing their best to discover the details of the attack through a brief analysis and investigation.
Explosive Sent Via USB Drive
An Ecuadorian television presenter was injured after bombs disguised as USB sticks were sent to journalists nationwide. 
It is not a good idea to put a strange, blank USB drive in your PC that you receive in the mail. For a few reporters in Ecuador, that's just something that's become a potentially life-saving piece of advice, even though it's just basic data security.
According to the local TV channel, police, and the Associated Press, nobody was injured since the explosion was small. The police have determined that only half of the explosive load on the drive was ignited.
In Ecuador, three explosive USB drives failed to detonate, and postal carriers intercepted the last one before it reached journalists and news agencies., BBC reported.
Cause of These Attacks 
The Agence France-Presse affirmed that explosive drives to five Ecuadorian journalists were sent in the mail from Quinsaloma. The experts observed that they were supposed to explode when the USB sticks were activated.
Ecuador Interior Minister Juana Zapata has confirmed that all five cases involved the same type of USB drive. 
As far as Fundamedios has been concerned, there is little clarity as to the motive for the explosions of the drives, which is likely to be restricted because the Ecuadorian government is investigating the possibility of a terrorist act.
While the USB drive was sent to TC Television, accompanying a letter that threatened Artieda and included a message against an unspecified political group.
Are Actions Taken for These Events?
An explosive device that had been sent to the news department at TC Television was detonated by the police in a controlled manner. A number of journalists are looking for more of the unmarked explosives in Ecuador and elsewhere.
A forensic scientist from Ecuador said the bombs contained explosives that had military-type properties. The press coverage of these events has pointed out that Ecuador has seen a rise in crime over the last few years attributed to drug trafficking by President Guillermo Lasso.
However, the motivations behind the recent transmission of USB weapons are still unclear. Despite the dangers journalists face, regardless of who is behind them, these unsettling tales should remind you that you shouldn't stick unknown USB drives into anything, especially those randomly mailed to you.
It is just as important to avoid clicking random links you receive in your inbox, opening unknown attachments, or downloading files that might be suspicious to you. 
As the country of 18 million may wobble due to such situations and might be on the edge of becoming a narco-state, crime gangs backed by lucrative drug cartel ties use terror techniques to intimidate authorities and civilians.
Are You a Pentester? – Try Free Automated API Penetration Testing For Developers & Testers
Also Read:
Hyundai, Kia Flaw Lets Attackers Steal Car With a USB Cable
Raspberry Robin – A a Windows Malware Spreads Using External USB Drives
USB Forensics – Reconstruction of Digital Evidence from USB Drive
Beware that Hackers Using Malicious USB Devices to Deliver Multiple Malware
Source: gbhackers.com