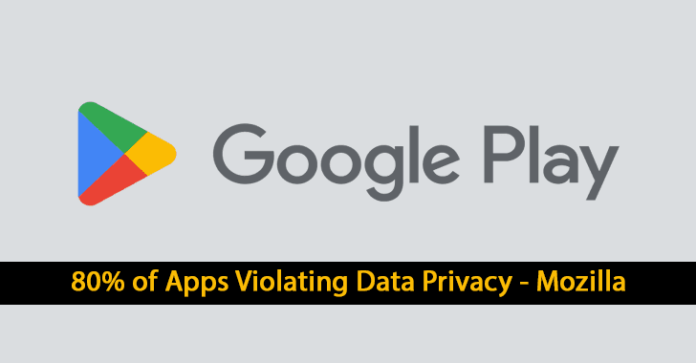 According to a Mozilla analysis, the majority of the top apps' data privacy labels on the Google Play Store are false or deceptive.
"Google Play Store's misleading Data Safety labels give users a false sense of security. Honest nutrition labels help us eat better. It's time we have honest data safety labels to help us better protect our privacy", Jen Caltrider, Project Lead, Mozilla
TikTok and Twitter do not share your personal information with third parties, contrary to what the Data Safety labels in the Google Play Store would have you believe. 
Nonetheless, the privacy rules of the apps clearly mention that they share user data with platforms, advertisers, ISPs, and a wide range of other companies.
"In nearly 80 percent of the apps reviewed, Mozilla found that the labels were false or misleading based on discrepancies between the apps' privacy policies and the information apps self-reported on Google's Data Safety Form", reports Mozilla.
Researchers have determined that the system falls short of assisting users in making more informed decisions regarding their privacy prior to making a purchase or downloading one of the 2.7 million apps available on the store.
Misleading Data Safety Labels on the Google Play Store
The 20 most popular paid apps and the 20 most popular free apps on the Google Play Store were compared for the study's privacy policies and labeling. Afterward, a rating of "Poor," "Needs Improvement," or "OK" was given to each app. 
It gave a "Poor" rating to 40% of the examined apps, including Facebook, Twitter, and Minecraft, since their Data Safety Forms contained discrepancies.
Notably, only 15% of apps, including Candy Crush Saga, Google Play Games, and others, received an "Ok" rating because their privacy policies closely matched their disclosures, while 37.5% of apps, including YouTube, Google Maps, Gmail, WhatsApp Messenger, TikTok, and Instagram, were rated as "need improvement". 
While Terraria, League of Stickman Acti, and UC Browser – Safe, Fast, Private did not complete the form, three other apps did.
"Consumers care about privacy and want to make smart decisions when they download apps. Google's Data Safety labels are supposed to help them do that. Unfortunately, they don't. Instead, I'm worried they do more harm than good," said Jen Caltrider.
"When I see Data Safety labels stating that apps like Twitter or TikTok don't share data with third parties it makes me angry because it is completely untrue. Of course, Twitter and TikTok share data with third parties. Consumers deserve better. Google must do better."
The Data Safety form has flaws that make it simple for apps to offer false information. Additionally, Google releases itself from the obligation to validate the information given by apps by noting in its Data Safety Labeling that apps "are responsible for providing complete and accurate declarations," according to the report.
"The history of nutrition labeling shows that it's possible to create a standardized system that becomes part of the cultural fabric and makes a positive difference in people's daily lives," said Caltrider
Recommendation
Mozilla suggests that Google and Apple implement a global, standardized data privacy system on their platforms as a solution to the issue. 
Mozilla also urges the companies to take more responsibility for assuring the accuracy of the data the applications disclose and to clarify and expand their enforcement action against apps.
Network Security Checklist – Download Free E-Book


Source: gbhackers.com