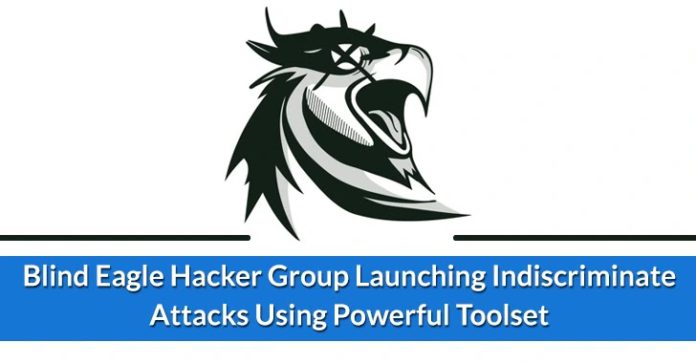 There have been reports that an organized threat actor, known as Blind Eagle (tracked as APT-C-36), has re-appeared again with a refined toolset and one of the most elaborate infection chains in the history of cyberattacks targeting Colombian and Ecuadorian organizations.
Blind Eagle is a Spanish-speaking hacker group and recently researchers at Check Point uncovered the group's latest:-
Tactics and techniques
Powerful Tools
Government-themed lures
As of 2018, Blind Eagle has been attacking indiscriminately South American nations due to its narrow geographical focus. In September 2021, Trend Micro published a document documenting the activities of the Blind Eagle group.
Banks Targeted With Campaigns
The distribution of BitRAT malware is being done via spear-phishing campaigns primarily targeting Colombian entities, with a lesser focus on the targets of the following countries:-
Below is a list of some of the banks that are targeted:-
Banco AV Villas
Banco Caja Social
Banco de Bogotá
Banco Popular
Bancoomeva
BBVA
Colpatria
Davivienda
TransUnion

Attack sequences are aborted if the email recipient is located outside Colombia, and Migración Colombia's official website is redirected to the victim.
An organization masked as the Ecuadorian Internal Revenue Service (SRI) has been waging a campaign targeting Colombia and Ecuador in a similar way. In order to filter out requests that are originating from countries other than the one it is located in, it makes use of the same geoblocking technology.
A much more complex multi-stage process is employed instead of a simple drop of RAT malware in this attack, which exploits the legitimate mshta.exe binary rather than dropping a RAT. This is done by executing VBScript embedded inside an HTML file so that two Python scripts can be downloaded.
The two python scripts are listed below:-
APT groups like Blind Eagle are a strange breed of APT groups regarding attacks. The organization seems more interested in cybercrime and monetary gain than espionage, based on its toolset and routine operations.
Secure Web Gateway – Web Filter Rules, Activity Tracking & Malware Protection – Download Free E-Book
Source: gbhackers.com